Contact
For more information please contact:
IGCAT (International Institute of Gastronomy, Culture, Art and Tourism)
Email: info@igcat.org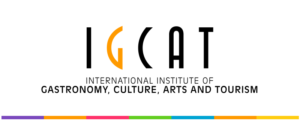 Join the Regions of Gastronomy Platform
In summary, to obtain the European Region of Gastronomy Award:
A stakeholder group of public, private, third sector and academic institutions needs to be formed. Ideally this stakeholder group will include different sectors concerned with gastronomy, culture, arts and tourism but needs four founding members. They agree to join the Platform and bid for the Award. They select 1-4 lead organisations to liaise with IGCAT.
A protocol agreement needs to signed with IGCAT – committing to join the Platform for minimum 5 year period.  Joining fee and annual membership fee will need to be paid.
The stakeholder group needs to engage a full-time coordinator to collect information about current initiatives, gather ideas from stakeholders  and develop a plan for events in your awarded year. Ideally this person can speak English and also liaise with other regional coordinators. The contract to manage the governance and coordination of stakeholder actions for the year should be given to a person or company that needs to fully understand the values, philosophy and principles of IGCAT and the ERG project. It is essential the selection is approved by IGCAT (as they will be recognised as IGCAT experts). This person/company must be given the mandate and capacity to include new stakeholders, listen to and support all stakeholders and to have been involved fully in the bidding process from the start.
Project ideas need to be compiled in a bid book that analyses the challenges that the region wishes to address by holding the title and provides descriptions of projects that you will deliver in order to address those challenges. The bid book should be less than 80 pages. Awarded regions bid books may be a source of inspiration.
The bid book (in digital form) and bidding fee needs to be delivered by 30 May (3-years ahead of the title year proposed). The bid book can be delivered as a pdf so that IGCAT can distribute it easily to the jury however hard copies need to be made for the jury presentation.
Four jury members will visit the region (normally in July or September) – these are IGCAT independent experts. It is an opportunity to meet key stakeholders and support the regions development as well as to look for opportunities that could link your initiatives to other regions in the Platform. A delegation needs to make a presentation and a tasting of products for the jury and public.
If the region is successful an Award Ceremony will be held in October (normally during the Open Days in Brussels and hosted by the region).
By joining the Platform you commit to three Platform meetings per year and to host at least one Platform meeting.