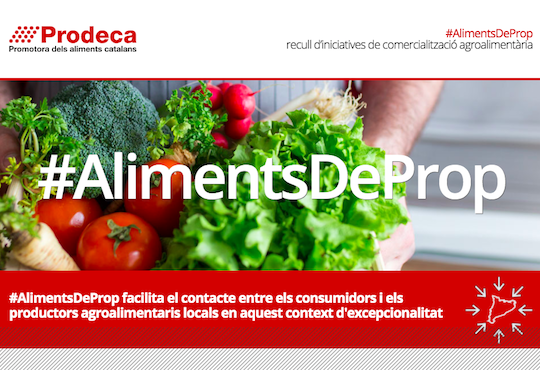 14 May 2020 – #AlimentsDeProp (LocalFood) online search engine has been launched by Catalonia, European Region of Gastronomy awarded 2016 with the aim to support and promote the local agrifood sector during the COVID-19 crisis.
A virtual hub where local demand and supply meet, this platform gives visibility to local agrifood initiatives and provides consumers with a single huge database where to spot and get in touch with their closest producers.
Supported by the Ministry of Agriculture, Livestock, Fisheries and Food of the Regional Government of Catalonia and hosted on PRODECA's website, a state-owned company promoting Catalan food, #AlimentsDeProp collects information about food producers and suppliers from the region, organising them according to geographical area and product category.
Currently, the search engine gathers over 350 initiatives from local individual producers, suppliers, establishments, wine cellars and cooperatives, as well as collective initiatives including among others, Pagesia a casa (Peasantry at home), Slow Food and Productors Catalans.
"Through #AlimentsDeProp we aim at collecting all initiatives that support the local agrifood sector and provide food to the local community during the COVID-19 pandemic" stressed Executive Director of PRODECA, Ramon Sentmarti who added that "we want to reward our agrifood sector for all the work they are doing for us by giving them maximum visibility and prioritising local trade."
The initiative has been developed starting from a campaign launched on Twitter by PRODECA at the beginning of the health crisis that allowed producers and consumers to get in touch through the #AlimentsDeProp hashtag, generating nearly 60.000 impressions and 1.500 interactions.
About the Regions of Gastronomy Platform
Candidate and awarded Regions of Gastronomy, guided by IGCAT, are working together to raise awareness about the importance of their cultural and food uniqueness; stimulate creativity and gastronomic innovation; educate for better nutrition; improve sustainable tourism standards; highlight distinctive food cultures; and strengthen community well-being.
About IGCAT
IGCAT aims to empower local communities by raising awareness of the importance to safeguard and promote distinct food, culture, arts and sustainable tourism assets. This is essential to balance against globalised food trends that are impacting on our planet, health and local economies.
IGCAT is a non-profit institute established in 2012, working with regional stakeholder consortiums in the fields of gastronomy, culture, arts and tourism. It counts on the expertise of a worldwide network of experts and works in partnership with specialised intergovernmental organisations.
IGCAT provides the Region of Gastronomy Award and is the official secretariat for the Regions of Gastronomy Platform. Furthermore, the Institute has developed the Young Chef Award, the Local Food Gift Challenge, the Top Visitor Experience and the Food Film Menu.