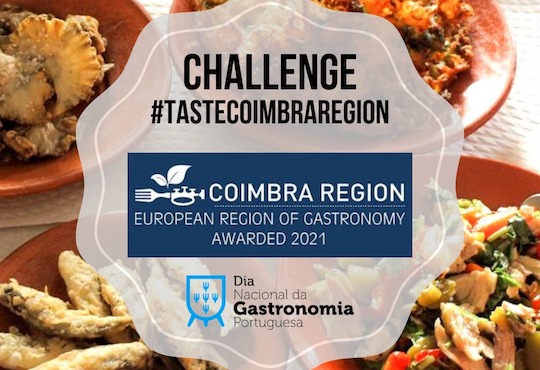 2 June 2020 – Traditional recipes, local ingredients and talented chefs were highlighted on social media by Coimbra Region, European Region of Gastronomy awarded 2021 to celebrate the National Day of Portuguese Gastronomy, on 30-31 May 2020.
Developed as part of the region's programme A Million Food Stories, through this mouthwatering initiative Coimbra Region shared both on Facebook and Instagram several recipes based on traditional ingredients and mainly cooked by local young chefs, such as the Arroz Doce à Moda de Coimbra (Coimbra Style Rice Pudding) or the Bolo de Mel da Lousã (Lousã Honey Cake).
Coimbra Region's finalist to the European Young Chef Award 2019, Bernardo Calvo contributed to the celebration by sharing a video recipe where he explained how to cook Arroz de Tamboril com Arroz Carolino do Baixo Mondego (Monkfish Rice with Carolino Rice from Baixo Mondego).
Finally, through the #tastecoimbraregion challenge, people were invited to participate and share photos of the Portuguese dishes they cooked throughout the weekend with the aim to create the largest showcase of Portuguese gastronomy.
About the Regions of Gastronomy Platform
Candidate and awarded Regions of Gastronomy, guided by IGCAT, are working together to raise awareness about the importance of their cultural and food uniqueness; stimulate creativity and gastronomic innovation; educate for better nutrition; improve sustainable tourism standards; highlight distinctive food cultures; and strengthen community well-being.
About IGCAT
IGCAT aims to empower local communities by raising awareness of the importance to safeguard and promote distinct food, culture, arts and sustainable tourism assets. This is essential to balance against globalised food trends that are impacting on our planet, health and local economies.
IGCAT is a non-profit institute established in 2012, working with regional stakeholder consortiums in the fields of gastronomy, culture, arts and tourism. It counts on the expertise of a worldwide network of experts and works in partnership with specialised intergovernmental organisations.
IGCAT provides the Region of Gastronomy Award and is the official secretariat for the Regions of Gastronomy Platform. Furthermore, the Institute has developed the Young Chef Award, the Local Food Gift Challenge, the Top Visitor Experience and the Food Film Menu.