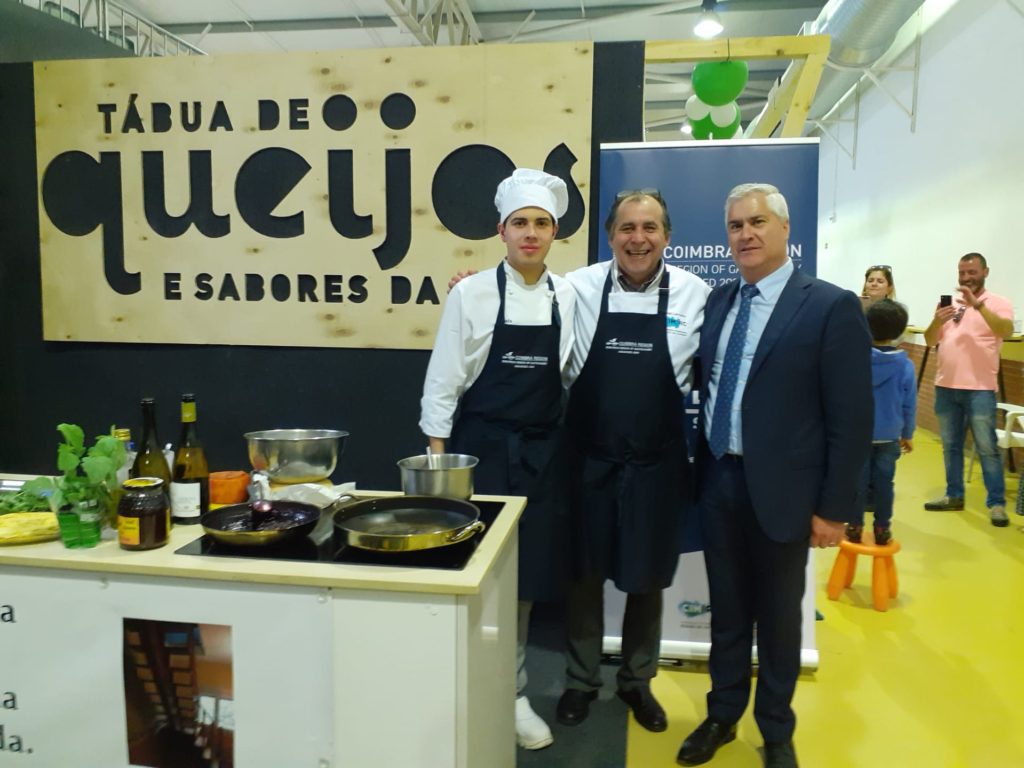 25 March 2020 – Considered one of the 7 Gastronomic Wonders of Portugal, the chafana was celebrated at the 9º Festival Gastronómico da Chanfana (9th Chafana da Lousã Gastronomic Festival), the first event officially branded with Coimbra Region, European Region of Gastronomy awarded 2021.
19 restaurants from all over the region joined the initiative with the aim to promote this goat's meat stew soaked in red wine that has typically formed part of local menus and is now acknowledged through the recently created brand Terras da Chafana (Lands of Chafana) including the counties of Lousã, Miranda do Corvo, Vila Nova de Poiares and Penela.
Organised from 21 February to 1 March 2020, the Festival forms part of a qualification process aimed at strengthening the offer of existing local food events by certifying their compliance with the principles underlying Coimbra Region's programme as European Region of Gastronomy: A Million Food Stories.
Two further events that underwent the same qualification process took place at the beginning of March, enhancing the region's gastronomic scene.
Montemor-o-Velho hosted the Festival do Arroz e da Lampreia | Sabores do Campo e do Rio (Festival of Rice and Lamprey | Flavours from the Field and the River, 6-15 March). Besides offering meals based on these two local ingredients, the event accommodated an over 3500 sq. m tent with several tapa bars and more than 40 stands devoted to local products, traditional sweets, crafts, agricultural machinery, trade and services, as well as institutional representations.
Finally, the 31st Tábua de Queijos e Sabores da Beira (Beira's Cheeses and Flavours Board) hosted in Tábua in collaboration with local associations, offered tastings and dished based on local products such as Serra cheese, sausages, bread, honey and wine from Dão region.
The certification programme involves 19 food fairs and festivals throughout the Intermunicipal Community of Coimbra Region, with the aim to promote local capacity-building and enhance municipalities' skills in the field of events organisation. The ultimate goal is to ensure a top-quality offer of food events in 2021, when the region will celebrate its European Region of Gastronomy title.
About the Regions of Gastronomy Platform
Candidate and awarded Regions of Gastronomy, guided by IGCAT, are working together to raise awareness about the importance of their cultural and food uniqueness; stimulate creativity and gastronomic innovation; educate for better nutrition; improve sustainable tourism standards; highlight distinctive food cultures; and strengthen community well-being.
About IGCAT
IGCAT aims to empower local communities by raising awareness of the importance to safeguard and promote distinct food, culture, arts and sustainable tourism assets. This is essential to balance against globalised food trends that are impacting on our planet, health and local economies.
IGCAT is a non-profit institute established in 2012, working with regional stakeholder consortiums in the fields of gastronomy, culture, arts and tourism. It counts on the expertise of a worldwide network of experts and works in partnership with specialised intergovernmental organisations.
IGCAT provides the Region of Gastronomy Award and is the official secretariat for the Regions of Gastronomy Platform. Furthermore, the Institute has developed the Young Chef Award, the Local Food Gift Challenge, the Top Visitor Experience and the Food Film Menu.