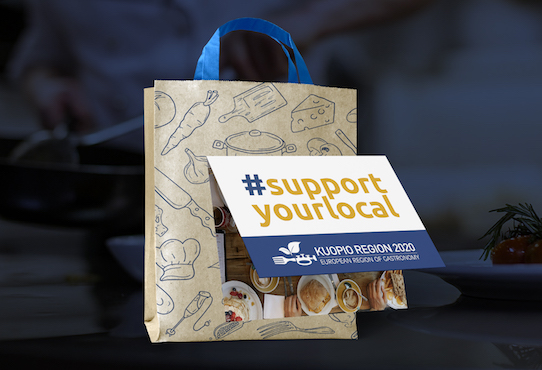 2 April 2020 – Supporting local food and small businesses is one of the main focuses of Kuopio, European Region of Gastronomy awarded 2020-2021. A mission that, now more than ever, is reinforced by the region's efforts to counteract the social and economic impacts of the COVID-19 outbreak.
By adhering to the Finnish national #supportyourlocal (#tuepaikallista) social media campaign, Kuopio calls for its community to help local producers, retailers and service providers, whose businesses survival is threatened by the recent restrictive measures adopted across the globe to preserve public health.
Taste Savo shared the campaign both on Facebook and Instagram to encourage people to buy from small entrepreneurs' online stores, order home delivery or take away food from local restaurants and, above all, spread a positive message through their social media channels.
Furthermore, Kuopio launched the additional hashtag #giftcardchallenge (#lahjakorttihaaste) inviting people to challenge each other to buy local restaurant gift cards to be used in the future. Participants will take part in an online raffle to win themselves gifts cards for local restaurants or cafes in Kuopio and the surrounding region.
By promoting the idea that staying at home should not prevent citizens from enjoying local produce and restaurant food, the campaign highlights the vital role that people can play in supporting their local economies. Moreover, it encourages local entrepreneurs to explore innovative business models and working methods that could allow them to survive these challenging times.
Kuopio has been awarded the European Region of Gastronomy title 2020-2021 by IGCAT on the basis of its Life According to Nature's Rhythm concept. With health, wellness and well-being as its core themes, the region's programme makes of Kuopio the place to experience as soon as the current health crisis comes to an end.
About the Regions of Gastronomy Platform
Candidate and awarded Regions of Gastronomy, guided by IGCAT, are working together to raise awareness about the importance of their cultural and food uniqueness; stimulate creativity and gastronomic innovation; educate for better nutrition; improve sustainable tourism standards; highlight distinctive food cultures; and strengthen community well-being.
About IGCAT
IGCAT aims to empower local communities by raising awareness of the importance to safeguard and promote distinct food, culture, arts and sustainable tourism assets. This is essential to balance against globalised food trends that are impacting on our planet, health and local economies.
IGCAT is a non-profit institute established in 2012, working with regional stakeholder consortiums in the fields of gastronomy, culture, arts and tourism. It counts on the expertise of a worldwide network of experts and works in partnership with specialised intergovernmental organisations.
IGCAT provides the Region of Gastronomy Award and is the official secretariat for the Regions of Gastronomy Platform. Furthermore, the Institute has developed the Young Chef Award, the Local Food Gift Challenge, the Top Visitor Experience and the Food Film Menu.