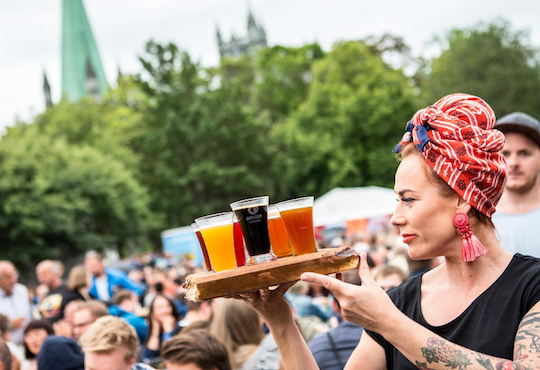 11 February 2022 – The air company Norwegian has announced new direct flights between Manchester and Trondheim granting opportunities for more people to discover Trondheim-Trøndelag, awarded European Region of Gastronomy 2022 by IGCAT.
The flights will operate twice a week starting from 15 August 2022 and will strengthen the company's connections to the region, complementing Norwegian's increase in flights between London Gatwick and Trondheim to five a week from 27 March (Travel Weekly).
"We are very pleased to announce this additional route between Manchester and Trondheim. UK visitors from Manchester will now have easy direct access to this beautiful Nordic region and we look forward to welcoming customers on board," said Magnus Thome Maursund, executive vice president network, pricing and planning at Norwegian (Business Traveller).
"We are looking forward to welcoming visitors from Manchester, especially in such an important year for the region. Often called Norway's food capital and Home of Nordic Flavours, the vibrant city of Trondheim is rightly emerging as one of the most interesting culinary destinations in Northern Europe. However, those visiting the region will discover it has so much more to offer, whether that be cultural tours, activities such as hiking, cycling and skiing or opportunities to simply relax and enjoy Norway's great outdoors" added Petra Sestak, general manager of Explore Trøndelag (Business Traveller).
For more information:
Norwegian to launch flights from Manchester to Trondheim – Business Traveller
Norwegian to launch new Trondheim flight this summer – Breaking Travel News
Norwegian Air to add Manchester-Trondheim flight – Travel Weekly
Norwegian to launch direct Manchester to Trondheim flights – Marketing Stockport
Norwegian Set to Launch Manchester-Trondheim Route – TTG Media
About the European/World Regions of Gastronomy
Candidate and awarded European/World Regions of Gastronomy, guided by IGCAT, are working together to strengthen food security through the celebration of distinctive food cultures; create employment by stimulating creativity and gastronomic innovation; nourish children and adults through culinary and cultural education; drive environmental sustainability in tourism, hospitality and agricultural sectors; support balance and sustainable tourism practices; highlight and support expertise from within rural and urban communities, creating connections and sharing good practises; and contribute to community health and well-being.
About IGCAT
IGCAT aims to empower local communities by raising awareness of the importance to protect and promote distinct regional food, culture, arts and natural assets as part of sustainable and balanced tourism and development strategies. This is essential to safeguard our planet, health, wellness and local economies.
IGCAT is a non-profit institute established in 2012, working with regional stakeholder consortiums in the fields of gastronomy, culture, arts and tourism. It counts on the expertise of a worldwide network of experts and works in partnership with specialised intergovernmental organisations.
IGCAT founded the European and World Region of Gastronomy Award and is the official secretariat for the World and European Regions of Gastronomy Platforms. Furthermore, the Institute has developed the European Young Chef Award, the World Food Gift Challenge, the Top Websites for Foodie Travelers Award and the Food Film Menu.