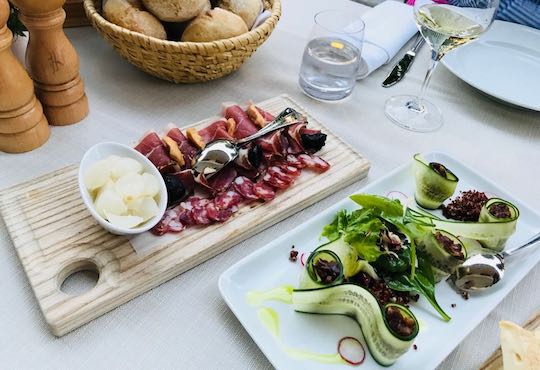 18 March 2020 – In an effort to build a lasting legacy for its European Region of Gastronomy 2021 title, Slovenia recently announced a plan to integrate sustainable gastronomy into the Green Scheme of Slovenian Tourism.
A certification programme implemented at national level, the Green Scheme of Slovenian Tourism (GSST) acknowledges tourism destinations and service providers that meet internationally recognised sustainability requirements and promotes them under the SLOVENIA GREEN umbrella brand.
Managed by the Slovenian Tourism Board – one of the founding stakeholders of Slovenia, European Region of Gastronomy awarded 2021 – the GSST "brings together all efforts directed towards the sustainable development of tourism in Slovenia" by encouraging destinations and tourism providers to improve their sustainable standards and, at the same time, giving national and international visibility to their efforts.
Currently, SLOVENIA GREEN certificates have been awarded to over 100 entities, including 53 destinations, 45 accommodation structures, 4 parks, 2 travel agencies and 1 attraction. The next step will be to include a green gastronomy certification in the scheme, in order to promote sustainable food as part of the country's tourism offer.
This initiative will contribute to achieve the goals set by Slovenia, European Region of Gastronomy awarded 2021 in its Taste Slovenia programme and Action Plan for the Development and Marketing of Gastronomy Tourism 2019-2023, aimed at promoting the region as a sustainable food tourism destination.
About the Regions of Gastronomy Platform
Candidate and awarded Regions of Gastronomy, guided by IGCAT, are working together to raise awareness about the importance of their cultural and food uniqueness; stimulate creativity and gastronomic innovation; educate for better nutrition; improve sustainable tourism standards; highlight distinctive food cultures; and strengthen community well-being.
About IGCAT
IGCAT aims to empower local communities by raising awareness of the importance to safeguard and promote distinct food, culture, arts and sustainable tourism assets. This is essential to balance against globalised food trends that are impacting on our planet, health and local economies.
IGCAT is a non-profit institute established in 2012, working with regional stakeholder consortiums in the fields of gastronomy, culture, arts and tourism. It counts on the expertise of a worldwide network of experts and works in partnership with specialised intergovernmental organisations.
IGCAT provides the Region of Gastronomy Award and is the official secretariat for the Regions of Gastronomy Platform. Furthermore, the Institute has developed the Young Chef Award, the Local Food Gift Challenge, the Top Visitor Experience and the Food Film Menu.