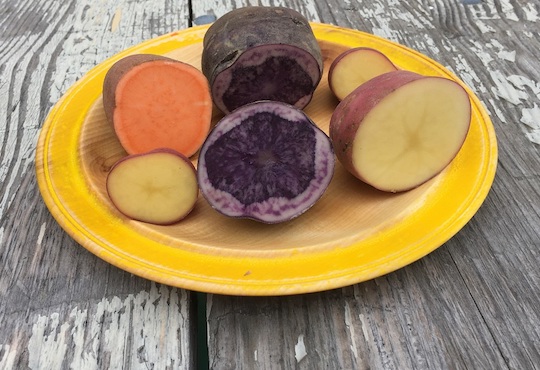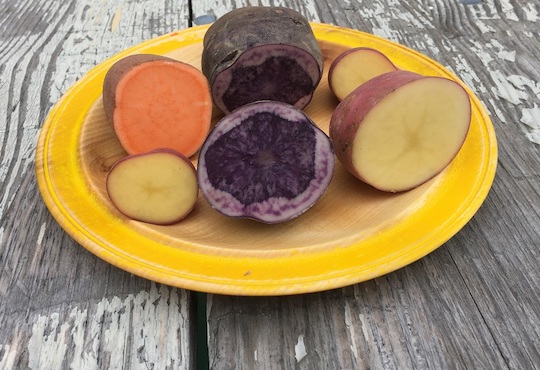 2 October 2020 – Blue Congo from Overhalla, almond potatoes from Kvikne, red Asterix and yellow sweet potato are among the local colorfoul potatoes that 5-year-olds from Trondheim-Trøndelag, awarded European Region of Gastronomy 2022 by IGCAT, got to know and cook during the ØKOUKA (EcoWeek), held on 18-27 September 2020.
Organised by Geitmyra Credo Culinary Center for Children in Lilleby (Trondheim), The Marvelous Potato workshop was designed for children to become familiar with local potato varieties and get a hands-on experience in the kitchen, making their own potato lefse (traditional soft Norwegian flatbread).
"It's fun to have so many kids here, they ask lots of questions and are so curious. You get really inspired when you hang out with them," affirmed Geitmyra teacher, Guro Katinka Storteig.
A tasting of homemade Blue Congo chips (a potato variety typically grown in Overhalla in the northern part of Trøndelag region), a few potato fairytales, and children were soon ready to put their aprons on and enter the very well-equipped kitchen of Edoramen restaurant to prepare their lefse and savour them with local, quality butter and homemade apple sauce.
Afterwards they got the chance to see and touch the potato plants, learn about their growth cycle and entertained themselves by digging the potatoes out of the soil.
The organisation Geitmyra Culinary Center for Children started its work in Oslo in 2011, based on an idea by chef and food writer Andreas Viestad. With the collaboration and support of Trondheim Municipality and Grønn Barneby (Green Children Society), Michelin-starred chef Heidi Bjerkan opened the Geitmyra Center at Credo in Trondheim, close to her restaurants Credo, Jossa and Edoramen.
Chef Heidi Bjerkan received the very first Sustainability Award from Michelin in 2019 and she constantly advocates for locally-produced and clean food, while the organisation Grønn Barneby works to facilitate education for children on the topics of sustainable development, climate and public health.
The main aim of Geitmyra Credo Culinary Center for Children is to instigate curiosity, enhance knowledge and to be a place where children can discover the joys of cooking and eating good and healthy food. The center offers teaching programmes for kindergartens and middle-school students, as well as cooking classes for children and their parents to instigate good food habits from an early age.
Public health, well-being, ecology and sustainability are at the center of all teaching in the centre.
"Cooking together and learning basic food skills is probably one of the least prioritised classes in school. Here we have ninth graders learning about food preservation and food heritage, fish, meat and sustainability and Sami food culture. They work together and learn about mastery. To co-create and share a meal is something that everyone loves, and it's so foundational," stated Guro Katinka Storteig.
The Marvelous Potato was only one among the many events held in Norway during the ØKOUKA (EcoWeek). Organised for the first time in Trøndelag in 2011, ØKOUKA is now a country-wide celebration of Norwegian organic food that aims to show the diversity of agricultural and food production in Norway and link it to people's everyday lives.
About the Regions of Gastronomy Platform
Candidate and awarded Regions of Gastronomy, guided by IGCAT, are working together to raise awareness about the importance of their cultural and food uniqueness; stimulate creativity and gastronomic innovation; educate for better nutrition; improve sustainable tourism standards; highlight distinctive food cultures; and strengthen community well-being.
About IGCAT
IGCAT aims to empower local communities by raising awareness of the importance to safeguard and promote distinct food, culture, arts and sustainable tourism assets. This is essential to balance against globalised food trends that are impacting on our planet, health and local economies.
IGCAT is a non-profit institute established in 2012, working with regional stakeholder consortiums in the fields of gastronomy, culture, arts and tourism. It counts on the expertise of a worldwide network of experts and works in partnership with specialised intergovernmental organisations.
IGCAT provides the Region of Gastronomy Award and is the official secretariat for the Regions of Gastronomy Platform. Furthermore, the Institute has developed the Young Chef Award, the Local Food Gift Challenge, the Top Visitor Experience and the Food Film Menu.