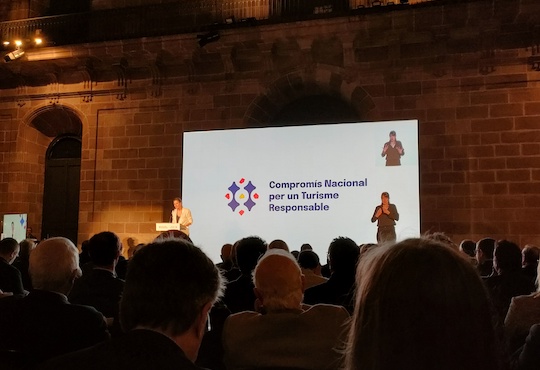 23 March 2023 – Envisioning a new tourism model that is environmentally responsible, socially fair, balanced and reconnected with the region's identity has been the ambition of Catalonia, European Region of Gastronomy awarded 2016 and, after many years of exciting work and an intensive consultation process over the past year, the Generalitat of Catalunya announced the National Commitment for Responsible Tourism as an official policy on 23 March 2023.
The ambitions of this document strongly reflect IGCAT's values and principles, as led and supported by IGCAT experts in Catalonia. IGCAT is therefore a proud signatory and a strong supporter of this National Commitment for Responsible Tourism.
It is a great accolade that the National Commitment for Responsible Tourism has already been signed by over 120 entities from tourism and tourism-related sectors, given that the Commitment sets ambitious goals, such as: fighting against climate change; preserving biodiversity; ensuring universal access to destinations; improving the quality of employment; and decarbonising the economy.
The Commitment is the result of a broad participatory process that started as early as 2016 but that has really taken shape in the last year, as many different projects and perspectives existing in the region have harmonised behind the need for this important recognition to safeguard and protect Catalonia's food, cultural and environmental diversity. It represents a common agreement to put the local natural and cultural heritage at the centre of the tourism strategy, by implementing initiatives that will help prevent the negative impacts of tourism in Catalonia, while highlighting the positive ones.
Some of the challenges outlined in the document include, for example, reaching 100% clean energy consumption in the tourism sector by 2035; integrating intangible heritage into the national and international tourism offering, with the aim of connecting visitors with the local ethnological and cultural traditions; or, driving innovation and digitalisation processes that will allow to increase the average length of visitor stay in Catalonia by 25% by 2030 compared to 2019.
The presentation event was attended by over 400 people, most of them signatories of the Commitment. The importance of this milestone in Catalonia's tourism policies was given in addresses by President of the Government of Catalonia, Pere Aragonès i Garcia; Minister for Business and Labour, Roger Torrent i Ramió; Director General of Tourism, Marta Domènech i Tomà; and Prof. José Antonio Donaire Benito, from the Faculty of Tourism at the University of Girona and coordinator of the process that led to the Commitment.
Catalonia has recently presented its bid to be World Region of Gastronomy in 2025 and this commitment will be a favourable element with which to impress the international jury when they visit in Catalonia in May.
About the European/World Regions of Gastronomy
Candidate and awarded World/European Regions of Gastronomy, guided by IGCAT, are working together to strengthen food security through the celebration of distinctive food cultures; create employment by stimulating creativity and gastronomic innovation; nourish children and adults through culinary and cultural education; drive environmental sustainability in tourism, hospitality and agricultural sectors; support balance and sustainable tourism practices; highlight and support expertise from within rural and urban communities, creating connections and sharing good practises; and contribute to community health and well-being.
About IGCAT
IGCAT aims to empower local communities by raising awareness of the importance to protect and promote distinct regional food, culture, arts and natural assets as part of sustainable and balanced tourism and development strategies. This is essential to safeguard our planet, health, wellness and local economies.
IGCAT is a non-profit institute established in 2012, working with regional stakeholder consortiums in the fields of gastronomy, culture, arts and tourism. It counts on the expertise of a worldwide network of experts and works in partnership with specialised intergovernmental organisations.
IGCAT founded the World/European Region of Gastronomy Award and is the official secretariat for the World/European Regions of Gastronomy Platforms. Furthermore, the Institute has developed the European Young Chef Award, the World Food Gift Challenge, the Top Websites for Foodie Travelers Award and the international Food Film Menu.