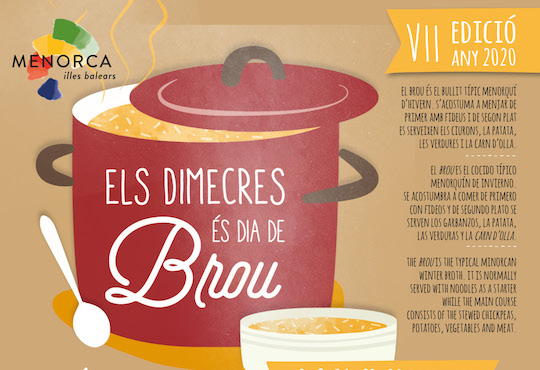 18 December 2020 – Menorca, European Region of Gastronomy 2022 awarded by IGCAT keeps strengthening the link between local food producers and restaurants, thereby supporting the promotion of traditional cuisine on local menus.
The gastronomic days Els Dimecres és dia de Brou (Wednesday is Brou day) celebrate a typical winter dish of the island, encouraging visitors to enjoy local establishments during the colder season. The 7th edition of this event managed to turn Brou into a must-taste in Menorca and Wednesday as the day par excellence to savour it.
Veal, chicken, potatoes, chickpeas, tomato, onion, carrot, aromatic herbs… These are the main ingredients to be found in the Brou Menorquí which is typically served as two dishes: a first course of soup with noodles and a second course of the meat, potatoes and chickpeas that have been cooked in the broth.
Organised by the Association of Cafés, Bars and Restaurants of Menorca (PIME Menorca), this initiative will take place on all Wednesdays in December 2020 and on 13, 20 and 27 January 2021, with the aim to support out-of-season gastronomic tourism.
Eight restaurants specialised in Menorcan cuisine are taking part in the 7th edition by offering a special menu for 14 euros (also to take away) including the Brou, water or wine, bread and dessert: Aquarium Port Ciutadella; Molí d'es Racó; Hotel Jeni & Restaurante; Meson Rias Baixas; Loar Ferreries; 23 Can Avelino; Restobar Mo; and Casino Sant Climent.
A contest will also be organised through the ferry company Baleària to win return tickets to Menorca and a tasting of a Brou menu in January 2021.
Els Dimecres és dia de Brou has been developed in collaboration with the Fundació Foment del Turisme de Menorca and with the support of Made in Menorca, Menorca European Region of Gastronomy awarded 2022, Foodies on Menorca, and the Balearic Association of Gastronomy Journalists and Writers. For more information about Els Dimecres és dia de Brou please visit: www.gastronomiamenorca.es
About the Regions of Gastronomy Platform
Candidate and awarded Regions of Gastronomy, guided by IGCAT, are working together to raise awareness about the importance of their cultural and food uniqueness; stimulate creativity and gastronomic innovation; educate for better nutrition; improve sustainable tourism standards; highlight distinctive food cultures; and strengthen community well-being.
About IGCAT
IGCAT aims to empower local communities by raising awareness of the importance to safeguard and promote distinct food, culture, arts and sustainable tourism assets. This is essential to balance against globalised food trends that are impacting on our planet, health and local economies.
IGCAT is a non-profit institute established in 2012, working with regional stakeholder consortiums in the fields of gastronomy, culture, arts and tourism. It counts on the expertise of a worldwide network of experts and works in partnership with specialised intergovernmental organisations.
IGCAT provides the Region of Gastronomy Award and is the official secretariat for the Regions of Gastronomy Platform. Furthermore, the Institute has developed the Young Chef Award, the Local Food Gift Challenge, the Top Visitor Experience and the Food Film Menu.