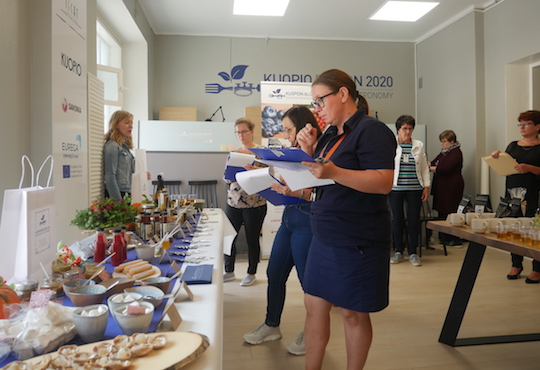 4 September 2020 – Kuopio, European Region of Gastronomy awarded 2020-2021 proudly hosted its first Local Food Gift Challenge to select the best food and craft products from the region that will compete in the forthcoming European Food Gift Challenge, organised by IGCAT.
Held on 26 August 2020, the local competition saw an impressive participation of local producers with a total of 29 products submitted.
With the hard task of selecting the most outstanding eight products to represent Kuopio region in the European contest, the jury evaluated several aspects such as the design and taste, as well as the level of sustainability and innovation.
"The competition proved that Kuopio region has a lot to offer to the world" stated Kirsi Soininen, Marketing Director of the City of Kuopio and member of the jury, remarking the panel's pleasant surprise in assessing the high number of local gastronomic gifts from Kuopio region that are ready for the international market.
The eight locally selected products will be presented at the first European Food Gift Challenge, to be held in Kuopio on 10 September 2020, where an international jury will evaluate products from different European Regions of Gastronomy to award the 10 best as European Region of Gastronomy Food Gifts 2020.
The winners will be announced during Kuopio's opening ceremony as European Region of Gastronomy 2020-2021, to be live streamed on 11 September 2020 starting from 17:30 (CEST).
About the Region of Gastronomy
Candidate and awarded Regions of Gastronomy, guided by IGCAT, are working together to raise awareness about the importance of their cultural and food uniqueness; stimulate creativity and gastronomic innovation; educate for better nutrition; improve sustainable tourism standards; highlight distinctive food cultures; and strengthen community well-being.
About IGCAT
IGCAT aims to empower local communities by raising awareness of the importance to safeguard and promote distinct food, culture, arts and sustainable tourism assets. This is essential to balance against globalised food trends that are impacting on our planet, health and local economies.
IGCAT is a non-profit institute established in 2012, working with regional stakeholder consortiums in the fields of gastronomy, culture, arts and tourism. It counts on the expertise of a worldwide network of experts and works in partnership with specialised intergovernmental organisations.
IGCAT provides the Region of Gastronomy Award and is the official secretariat for the World Regions of Gastronomy Platform. Furthermore, the Institute has developed the Young Chef Award, the Local Food Gift Challenge, the Top Visitor Experience and the Food Film Menu.