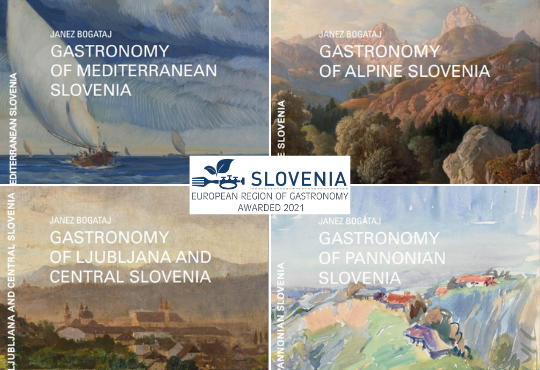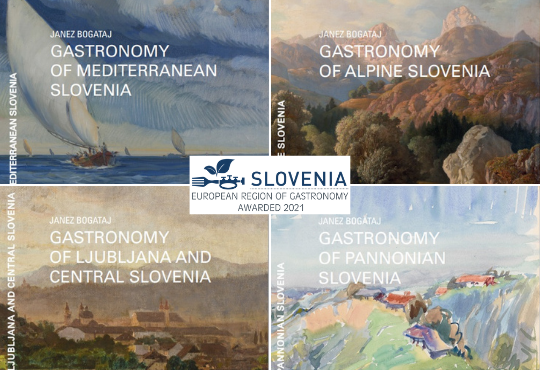 12 March 2021 – Within the framework of its title year, Slovenia, European Region of Gastronomy awarded 2021 has announced the publication of Gastronomy of Slovenia, a unique four-book collection aimed to celebrate and give international visibility to the local culinary heritage.
Authored by IGCAT Expert, Prof. Janez Bogataj, PhD, who had a pivotal role in Slovenia's bid for the European Region of Gastronomy title, the publication is an outstanding showcase of Slovenia's 24 food regions and 430 representative foods, dishes and drinks that contribute to shape the local gastronomic identity.
A skilful combination of food, landscape and the arts, Gastronomy of Slovenia offers an unmissable array of local stories and recipes paired with photographs of the region's natural environments and works of art by Slovene painters that can be found in Slovenia's art galleries and museums.
By presenting Slovenia's gastronomic pyramid, that since 2006 has been a fundamental part of the Gastronomy Strategy of Slovenia, the four books highlight a nutritional treasure trove of local products and ingredients. And, at the same time, they open the way for further development of local and regional specialities, enabling contemporary Slovene cuisine to stand out for its innovative and creative character.
The publication emphasises the importance of local and regional food cultures in supporting sustainable development through the promotion of seasonal products and local supply chains; as well as the need for cross-sectoral cooperation between gastronomy, culture, tourism, education and health to ensure community well-being and balanced local growth.
The Gastronomy of Slovenia collection includes the following titles:
GASTRONOMY OF LJUBLJANA AND CENTRAL SLOVENIA: Crossroads of Tastes;
GASTRONOMY OF PANNONIAN SLOVENIA: Pogače (Flat Cakes), Mineral Waters and Rolling Vineyards;
GASTRONOMY OF ALPINE SLOVENIA: Beneath mountain peaks, nestling in picturesque valleys;
GASTRONOMY OF MEDITERRANEAN SLOVENIA: Where fish swim twice.
The collection will be published by Hart Publishing (Ljubljana) by May 2021 and is sponsored by Slovenia's Ministry for Economic Development and Technology, Ministry of Agriculture, Forestry and Nutrition, Ministry of Foreign Affairs, Slovenian Tourist Board, National Gallery and others.
About the author
Prof. Janez Bogataj, PhD is an expert in ethnology, cultural heritage and gastronomy, who has been instrumental in championing the fine fruits of Slovenian gastronomy within the European Union. His books have been distinguished with international accolades such as the Best in the World and the Gourmand World Cookbook Award. The author's wide-ranging scientific, professional and pedagogical work is also reflected in this comprehensive collection.
About the Regions of Gastronomy Platform
Candidate and awarded Regions of Gastronomy, guided by IGCAT, are working together to raise awareness about the importance of their cultural and food uniqueness; stimulate creativity and gastronomic innovation; educate for better nutrition; improve sustainable tourism standards; highlight distinctive food cultures; and strengthen community well-being.
About IGCAT
IGCAT aims to empower local communities by raising awareness of the importance to safeguard and promote distinct food, culture, arts and sustainable tourism assets. This is essential to balance against globalised food trends that are impacting on our planet, health and local economies.
IGCAT is a non-profit institute established in 2012, working with regional stakeholder consortiums in the fields of gastronomy, culture, arts and tourism. It counts on the expertise of a worldwide network of experts and works in partnership with specialised intergovernmental organisations.
IGCAT provides the Region of Gastronomy Award and is the official secretariat for the European and World Regions of Gastronomy Platform. Furthermore, the Institute has developed the European Young Chef Award, the European Food Gift Challenge, the Top Visitor Experience and the Food Film Menu.