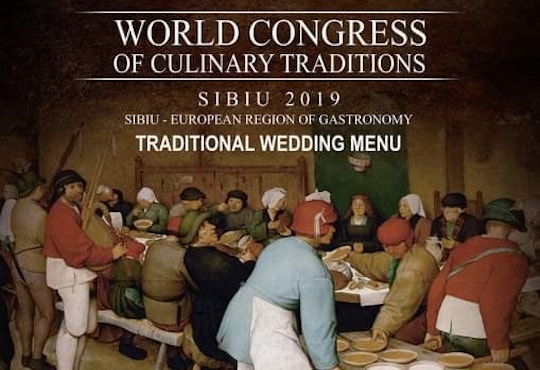 20 December 2019 – In the framework of Sibiu, European Region of Gastronomy awarded 2019 programme, the city of Sibiu hosted the second edition of the World Congress of Culinary Traditions that gathered over 200 chefs from Romania and abroad under the theme Traditional Wedding Menu.
Held on 17-20 November 2019, the event brought together delegations from more than 35 countries including Malaysia, Bhutan, Uzbekistan, India, Pakistan, China, Canada, Australia, and the US, to prepare and present traditional recipes from their regions related to the celebration of the wedding.
Romania was represented by several teams coming from the country's nine historical regions – Muntenia, Oltenia, Banat, Transilvania, Maramureş, Bucovina, Moldova, Crișana and Dobrogea – and formed by members of the cultural association Euro East Alternative.
Each team was given 90 minutes to prepare their wedding menu and 10 minutes to present it, focusing on the story of the dishes, ingredients and preparation techniques.
On the last day, participating delegations were challenged to cook with Romanian local products and competed in the following categories awarded by the audience: Best foreign team that presented a Romanian product; Best Romanian food prepared by a foreigner; Most popular team; and Most exotic interpretation of a Romanian recipe.
Held at the Ion Besoiu Cultural Center in Sibiu, the World Congress of Culinary Traditions was opened by IGCAT Expert and President of Euro East Alternative, Iulia Drăguț and attended by President of Sibiu County Council, Daniela Cîmpean and Ambassador of Tunisia to Romania, Raja Jhinaoui Ben Ali.
A celebration of intercultural dialogue and local products from all over the world, the Congress was organised by the cultural association Euro East Alternative and the Consortium of Sibiu, European Region of Gastronomy 2019, including the Municipality of Sibiu and Sibiu County Council, and was endorsed by the International Institute of Gastronomy Culture and Tourism (IGCAT).
About the Regions of Gastronomy Platform
Candidate and awarded Regions of Gastronomy, guided by IGCAT, are working together to raise awareness about the importance of their cultural and food uniqueness; stimulate creativity and gastronomic innovation; educate for better nutrition; improve sustainable tourism standards; highlight distinctive food cultures; and strengthen community well-being.
About IGCAT
IGCAT aims to empower local communities by raising awareness of the importance to safeguard and promote distinct food, culture, arts and sustainable tourism assets. This is essential to balance against globalised food trends that are impacting on our planet, health and local economies.
IGCAT is a non-profit institute established in 2012, working with regional stakeholder consortiums in the fields of gastronomy, culture, arts and tourism. It counts on the expertise of a worldwide network of experts and works in partnership with specialised intergovernmental organisations.
IGCAT provides the Region of Gastronomy Award and is the official secretariat for the Regions of Gastronomy Platform. Furthermore, the Institute has developed the Young Chef Award, the Local Food Gift Challenge, the Top Visitor Experience and the Food Film Menu.