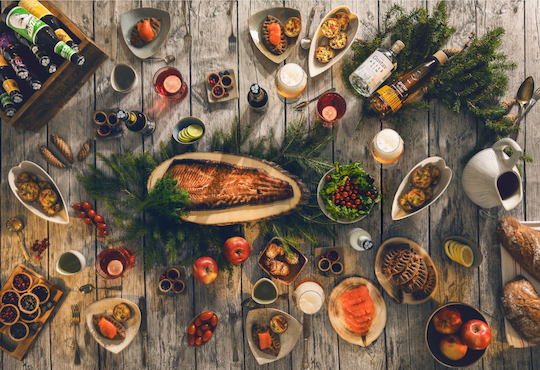 30 June 2020 – A digital gastromap highlighting food-related experiences in Kuopio, European Region of Gastronomy awarded 2020-2021 has been launched on the renewed travelling website www.kuopiotahko.fi.
As the widest collection of food industry players, producers and service providers ever compiled for the region, the gastromap features over 80 experiences, festivals, events, farms, SMEs, museums and activities engaged in the European Region of Gastronomy 2020-2021 programme.
Through the map, that will be constantly updated during the next two years, users can easily shape their own food path to explore the region and save their favourites on a personal pinboard through the site's trip planner.
Developed in the framework of the EuReGa project that complements the European Region of Gastronomy 2020-2021 celebration, the initiative is the result of a cooperation between Kuopio-Tahko Markkinointi Oy, ProAgria Eastern Finland, the Rural Women's Advisory Organisation and the Kuopio-based marketing agency Ahooy Creative.
Kuopio was awarded the European Region of Gastronomy title by IGCAT in 2017, based on their Life According to Nature's Rhythm programme aimed to highlight the region as an ideal destination to experience pristine nature, healthy food and wellbeing.
About the Regions of Gastronomy Platform
Candidate and awarded Regions of Gastronomy, guided by IGCAT, are working together to raise awareness about the importance of their cultural and food uniqueness; stimulate creativity and gastronomic innovation; educate for better nutrition; improve sustainable tourism standards; highlight distinctive food cultures; and strengthen community well-being.
About IGCAT
IGCAT aims to empower local communities by raising awareness of the importance to safeguard and promote distinct food, culture, arts and sustainable tourism assets. This is essential to balance against globalised food trends that are impacting on our planet, health and local economies.
IGCAT is a non-profit institute established in 2012, working with regional stakeholder consortiums in the fields of gastronomy, culture, arts and tourism. It counts on the expertise of a worldwide network of experts and works in partnership with specialised intergovernmental organisations.
IGCAT provides the Region of Gastronomy Award and is the official secretariat for the Regions of Gastronomy Platform. Furthermore, the Institute has developed the Young Chef Award, the Local Food Gift Challenge, the Top Visitor Experience and the Food Film Menu.