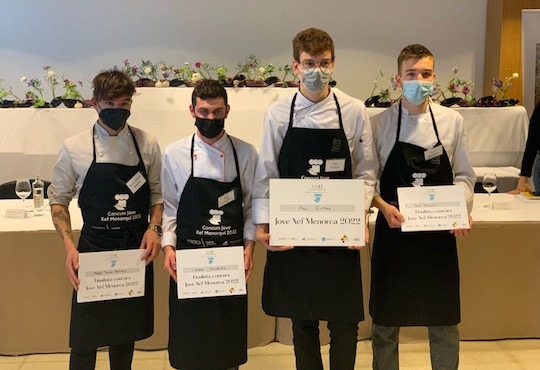 14 March 2022 – Pau Sintes Juanico was selected Menorcan Young Chef for 2022 and will represent Menorca, European Region of Gastronomy awarded 2022 at the 6th European Young Chef Award, to be held in Trondheim next November.
Celebrated on 12 March at Mª Àngels Cardona Institute in Ciutadella, the contest gathered four finalists from the island: Pau Sintes; José Maria Borrás; Abel González; and Pere Quim Coll. All of them competed by cooking the same local dish (panadera de peix), first in its traditional version and then proposing their own innovative reinterpretation.
The dishes were evaluated by a jury of experts including: Miquel Mariano, member of Fra Roger Gastronomy and Culture Association; Maria Benejam, Director of the Menorca School of Tourism; Juan Carlos García, representative of the stakeholders group of Menorca, European Region of Gastronomy 2022; Cati Zornosa, from IES Mª Àngels Cardona; Cristina Llorens, Menorca's finalist to the European Young Chef Award 2021; Sílvia Anglada and Toni Tarragó, from restaurant Es Tast de na Sílvia, who closely followed the finalists in the kitchen.
The jury recognised the high level of the competition and stressed that they had a hard decision to make, as all of the finalists showed the right skills and capacities to access the European final. The young chefs demonstrated passion, knowledge and technique through their extraordinary dishes and the jury foresaw a promising future chef career for each of them.       
Despite the fierce competition, 21-year-old student at the University of Barcelona, Pau Sintes eventually managed to captivate the jury's palates with a dish recreating a sailing boat with local fish and vegetables varieties. His inspiration for the innovative recipe came from Gumersind Riera Sans's poem En aquesta cala (In this cove) and the games Pau used to play as a child in Fornells.
President of the Insular Council of Menorca, Susana Mora announced the Menorcan Young Chef for 2022 and handed over the award certificate to the winner, together with Menorca's Councillor for Economy, Josep Pastrana, and Third Deputy Mayor of Ciutadella, José López.
Mora congratulated all the finalists for demonstrating great capacities, professionalism, motivation and commitment. At the same time, she thanked the jury and the technical team for making possible such a flagship event of Menorca, European Region of Gastronomy 2022.
According to Mora, the competition "confirms that the gastronomy of Menorca has a present and a future. Preparing and innovating such a typical dish from the island's gastronomic heritage as the panadera de peix is testament to the fact that the Menorcan cuisine can adapt to the contemporary tastes and new culinary techniques, transforming its traditional dishes without losing its essence."
Excited and grateful, Pau Sintes highlighted the high level of gastronomy in Menorca thanks to its top-quality chefs and restaurants. He dedicated his victory to his grandmother and ensured he will be proud to represent the island at the European Young Chef Award in Norway.
The whole event was livestreamed on YouTube and presented by Clara Aymamí, who followed the competition from IES Mª Àngels Cardona, and Malu Morro, based in the Claustre del Carme. Besides allowing the public to watch the contest in real time, both locations hosted several activities throughout the day, including: a talk about Menorcan cuisine, from its origins to the modern times, held by Antoni Juaneda from Cómete Menorca; a cooking activity for children held by Bàrbara Lluch; a cooking show by Víctor Bayo; and a concert by Ismael de la Torre Trio.
About the European Young Chef Award
The European Young Chef Award is an annual competition organised by IGCAT that gathers young culinary talents from the awarded and candidate European Regions of Gastronomy. Selected each year through local contests, finalists to the European Young Chef Award compete by innovating traditional recipes from their regions using local ingredients.
The 6th edition of the European Young Chef Award is organised and promoted by the International Institute of Gastronomy, Culture, Art and Tourism (IGCAT) and will be hosted by Trondheim-Trøndelag, European Region of Gastronomy awarded 2022 on 10-13 November 2022.
About the European/World Regions of Gastronomy
Candidate and awarded European/World Regions of Gastronomy, guided by IGCAT, are working together to strengthen food security through the celebration of distinctive food cultures; create employment by stimulating creativity and gastronomic innovation; nourish children and adults through culinary and cultural education; drive environmental sustainability in tourism, hospitality and agricultural sectors; support balance and sustainable tourism practices; highlight and support expertise from within rural and urban communities, creating connections and sharing good practises; and contribute to community health and well-being.
About IGCAT
IGCAT aims to empower local communities by raising awareness of the importance to protect and promote distinct regional food, culture, arts and natural assets as part of sustainable and balanced tourism and development strategies. This is essential to safeguard our planet, health, wellness and local economies.
IGCAT is a non-profit institute established in 2012, working with regional stakeholder consortiums in the fields of gastronomy, culture, arts and tourism. It counts on the expertise of a worldwide network of experts and works in partnership with specialised intergovernmental organisations.
IGCAT founded the European and World Region of Gastronomy Award and is the official secretariat for the World and European Regions of Gastronomy Platforms. Furthermore, the Institute has developed the European Young Chef Award, the World Food Gift Challenge, the Top Websites for Foodie Travelers Award and the Food Film Menu.