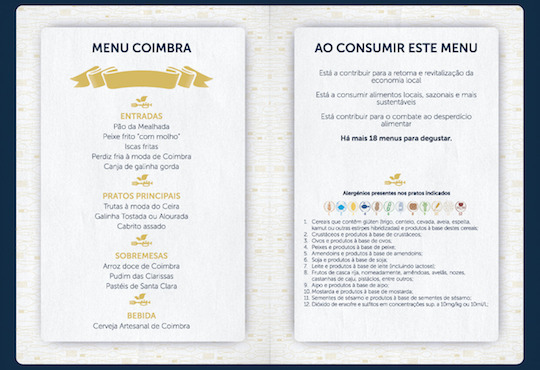 21 July 2021 – In the framework of its European Region of Gastronomy 2021-22 programme, Coimbra Region has recently implemented three measures to support local restaurants and encourage unique experiences of the local gastronomy both for visitors and locals.
On 26 June 2021, the CIM Region of Coimbra, in partnership with the Association of Hospitality, Restaurants, and Related Services of Portugal (AHRESP), launched the Taste Coimbra Region Menu, together with the Gastronomic Passport and the Restaurant Voucher initiatives, all aimed at strengthening the promotion of local gastronomy and culture as a competitive advantage to stimulate local sustainable development.
The Taste Coimbra Region Menu takes visitors and locals on a journey through the best flavours of the region by offering a set of 19 different menus highlighting the unique delicacies of each of the 19 municipalities in the region.
To keep track of this culinary itinerary, a Gastronomic Passport has been created in which customers can collect a stamp for every Taste Coimbra Region Menu they consume. Once completed, the passport can be exchanged for a basket of local DOP products from the Coimbra Region.
Finally, the region has issued a total of 2,000 restaurant vouchers for local residents to obtain a discount of 15.00€ on Taste Coimbra Region Menus with a value equal to or greater than 30.00€. Both the Gastronomic Passport and the restaurant vouchers can be collected at the Tourism Offices of each municipality and will be valid until 30 June 2022.
The Taste Coimbra Region Menus are exclusively available in restaurants participating in the Food and Wine SELECTION Programme (Programa SELEÇÃO Gastronomia e Vinhos). This programme aims to highlight and promote gastronomy as part of Portugal's cultural heritage by creating a network of restaurants committed to guarantee customer satisfaction through: the adoption of traditional Portuguese recipes; the preferential use of local products; the implementation of good practices in hygiene and food safety; and the offer of an impeccable quality of service.
Restaurants participating in the Taste Coimbra Region Menus initiative can be consulted on Coimbra Region's website and are identified with the acronym SGV+MTCR.
About the European and World Regions of Gastronomy
Candidate and awarded European and World Regions of Gastronomy, guided by IGCAT, are working together to strengthen food security through the celebration of distinctive food cultures; create employment by stimulating creativity and gastronomic innovation; nourish children and adults through culinary and cultural education; drive environmental sustainability in tourism, hospitality and agricultural sectors; support balance and sustainable tourism practices; highlight and support expertise from within rural and urban communities, creating connections and sharing good practises; and contribute to community health and well-being.
About IGCAT
IGCAT aims to empower local communities by raising awareness of the importance to protect and promote distinct regional food, culture, arts and natural assets as part of sustainable and balanced tourism and development strategies. This is essential to safeguard our planet, health, wellness and local economies.
IGCAT is a non-profit institute established in 2012, working with regional stakeholder consortiums in the fields of gastronomy, culture, arts and tourism. It counts on the expertise of a worldwide network of experts and works in partnership with specialised intergovernmental organisations.
IGCAT founded the European and the World Region of Gastronomy Award and is the official secretariat for the European and World Regions of Gastronomy Platform. Furthermore, the Institute has developed the European Young Chef Award, the European Food Gift Challenge, the Top Visitor Experience and the Food Film Menu.