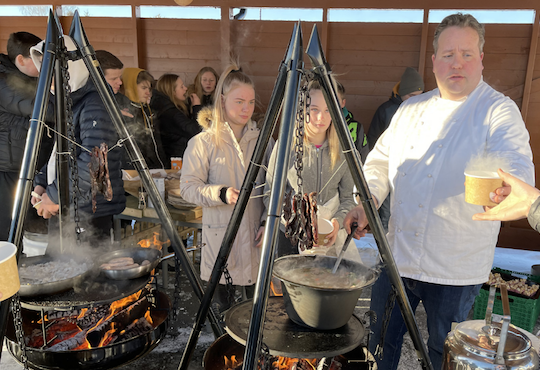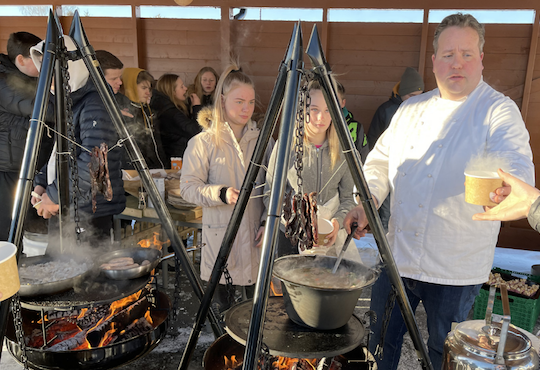 11 February 2021 – 1500 students from 50 middle schools across Trondheim-Trøndelag, European Region of Gastronomy awarded 2022 took part in the celebrations for the 10th anniversary of the Trøndelag Food Manifesto, on 11 February 2021.
Developed to highlight the region's food heritage, the Trøndelag Food Manifesto aims to encourage the use of seasonal foods, support local food culture, educate young people about health and food, and promote local food stories and recipes.
Inspired by Sami National Day (6 February), students at Halsen Middle School in the Municipality of Stjørdal focused their celebration of the Trøndelag Food Manifesto Day on Sami culinary traditions.
Guided by chef and teacher of food and health sciences, Jan Tore Stokke, the students helped prepare and serve a unique and tasty meal based on local ingredients such as reindeer meat, potatoes and lingonberries, for the delight of a reduced audience of parents, teachers and visitors.
Stokke, who signed the Food Manifesto 10 years ago, when he was a chef at Kirkebyfjellet Lodge, insisted that "it's important that we have such a document as the Food Manifesto, that we prioritise the use of locally sourced foods, and that we create ownership of our food region.
"Our intention when creating the culinary and health curriculum for the students was to spark joy, creativity and inspiration for real food. We will all be having dinner for the rest of our lives, and now the students are learning how to make it themselves, using locally sourced ingredients. Having access to local ingredients of high quality creates a positive relationship to food.

"I highly encourage everybody working in the food industry to sign the Food Manifesto. Every respectable restaurant ought to focus on the foods that are produced in their vicinity. It's important to concentrate on the seasonal foods and use what is best right now" he concluded.
Representative of the Municipality of Stjørdal, Siv Sætran affirmed that the Food Manifesto has enhanced people's awareness of Trøndelag as a food region.

"Because so many restaurants, schools and institutions have signed the Food Manifesto, we are starting to see the effects of it here in the food region of Trøndelag today. I think the Manifesto has created ownership and belonging" she said.

"Most counties have already signed, and those left will be signing by the end of the year. I think it makes a difference in our daily lives as well, shaping the choices we make and what kind of food we buy. I think The Food Manifesto is the reason why the food culture is where it's at in Trøndelag today" explained Sætran.
Trøndelag Food Manifesto:
We seek to promote the uniqueness, diversity and flavour of the food produced in Trøndelag in all areas ranging from the coast and the ocean to the high plains and mountains.
We seek to contribute to using raw materials and foods that further the enjoyment of food and health.
We seek to contribute to the marketing of local foods and food traditions as tourist attractions.
We seek to communicate the stories about Trøndelag foods and its preparations.
We seek to utilize foods from the ocean and the land throughout their seasonal variations.
We seek to encourage the use of foods and products that are environmentally sustainable.
We seek to support good food and food culture among children and youth.
The food and food culture of Trøndelag will be evidence based. We seek to contribute to the development of regional foods and products through education, innovation and research.
About the Regions of Gastronomy Platform
Candidate and awarded Regions of Gastronomy, guided by IGCAT, are working together to raise awareness about the importance of their cultural and food uniqueness; stimulate creativity and gastronomic innovation; educate for better nutrition; improve sustainable tourism standards; highlight distinctive food cultures; and strengthen community well-being.
About IGCAT
IGCAT aims to empower local communities by raising awareness of the importance to safeguard and promote distinct food, culture, arts and sustainable tourism assets. This is essential to balance against globalised food trends that are impacting on our planet, health and local economies.
IGCAT is a non-profit institute established in 2012, working with regional stakeholder consortiums in the fields of gastronomy, culture, arts and tourism. It counts on the expertise of a worldwide network of experts and works in partnership with specialised intergovernmental organisations.
IGCAT provides the Region of Gastronomy Award and is the official secretariat for the European and World Regions of Gastronomy Platform. Furthermore, the Institute has developed the European Young Chef Award, the European Food Gift Challenge, the Top Visitor Experience and the Food Film Menu.
Photo credit: Lars Bugge Aarseth