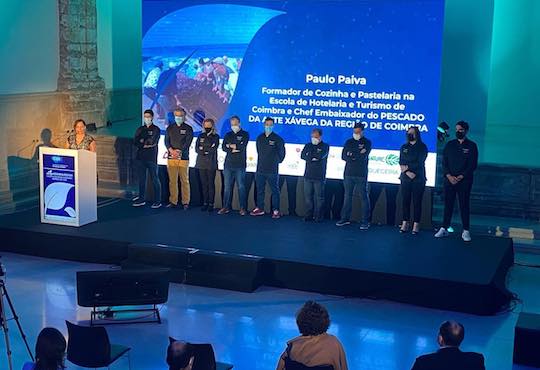 14 June 2021 – Coimbra Region officially started the celebrations of their title year as European Region of Gastronomy awarded 2021-2022 at an opening ceremony held on 11 May 2021 at the Convento São Francisco.
The European Region of Gastronomy initiative involves all 19 municipalities of the Intermunicipal Community of Coimbra Region (CIMRC) in a common endeavour to promote gastronomy as a driver for local and regional development.
Under the motto A Million Food Stories, throughout 2021 and 2022 the region will implement a rich programme of events, experiences and projects related to regional gastronomy, such as the elaboration of a regional gastronomic menu, or the creation of food and cultural routes.
All initiatives will be implemented to achieve Coimbra Region's ambitious goals of contributing to a more sustainable and healthy local food system and reinforcing the region's identity and heritage.
"Gastronomy goes far beyond cooking. It must be seen as a source of wealth and community involvement" and thus as a crucial element for "a regional and local development strategy" affirmed Ana Abrunhosa, Minister of Territorial Cohesion of the Portuguese Government, in support of the European Region of Gastronomy title.
Official Ambassador of Coimbra, European Region of Gastronomy 2021-22 and Head Chef of Portugal's national football team, Luís Lavrador stressed that, in the last decades, a growing interest in gastronomy "helped rescue old and dormant food traditions" and recognised their added value as an economic asset.

Executive Secretary of CIMRC, Jorge Brito, commented that besides enhancing the region's gastronomic heritage, the European Region of Gastronomy title contributes to local sustainable development by "reinforcing the authenticity of the region and its knowledge; stimulating the consumption of seasonal products and respecting the production cycles, which many have already forgotten; shortening supply chains; and boosting the local and regional economy."
Coimbra Region has been awarded European Region of Gastronomy 2021-22 by IGCAT in recognition of its strong commitment to increase the relevance of gastronomy to regional development and its capacity of capitalising on local traditions to create a long-term vision for the future.
Enjoy a short video of Coimbra Region's opening ceremony!
About the European and World Regions of Gastronomy
Candidate and awarded European and World Regions of Gastronomy, guided by IGCAT, are working together to strengthen food security through the celebration of distinctive food cultures; create employment by stimulating creativity and gastronomic innovation; nourish children and adults through culinary and cultural education; drive environmental sustainability in tourism, hospitality and agricultural sectors; support balance and sustainable tourism practices; highlight and support expertise from within rural and urban communities, creating connections and sharing good practises; and contribute to community health and well-being.
About IGCAT
IGCAT aims to empower local communities by raising awareness of the importance to protect and promote distinct regional food, culture, arts and natural assets as part of sustainable and balanced tourism and development strategies. This is essential to safeguard our planet, health, wellness and local economies.
IGCAT is a non-profit institute established in 2012, working with regional stakeholder consortiums in the fields of gastronomy, culture, arts and tourism. It counts on the expertise of a worldwide network of experts and works in partnership with specialised intergovernmental organisations.
IGCAT founded the European and the World Region of Gastronomy Award and is the official secretariat for the European and World Regions of Gastronomy Platform. Furthermore, the Institute has developed the European Young Chef Award, the European Food Gift Challenge, the Top Visitor Experience and the Food Film Menu.