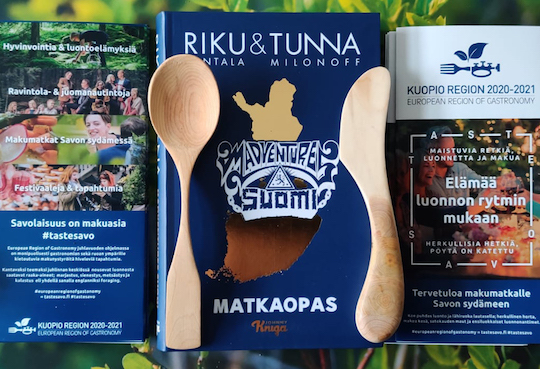 27 October 2020 – Kuopio, awarded European Region of Gastronomy 2020-21 by IGCAT, was featured in Madventures Travel Guide to Finland, published on 15 October 2020.
"A Finnish adventurer's handbook for the country's best stops," the Madventures Travel Guide "is a map of lost routes for ecological short-distance travel."
Authors Riku Rantala and Tuomas "Tunna" Milonoff present the strangest events taking place throughout the provinces, towns and villages of the country, the restaurants worth visiting and the most impressive natural sites, showing that Finland is a world-class travel destination.
At an arduous time for international travelling, the guide offers an insight into how a canceled weekend trip abroad can be turned into an even better experience at home, such as visiting Kuopio during its European Region of Gastronomy title year.
The guide hints at interesting travel destinations in the region and introduces the area's delicious gastronomy, explaining how Riku could understand the singing of the birds after tasting the food prepared by one of Kuopio's official ambassadors, chef Aki Hiltunen with tasteful local ingredients such as: smoked pike perch, pickled vegetables with local dill vodka and Savonian potatoes.
Kuopio officially opened its European Region of Gastronomy title year in September 2020 under the theme Life According to Nature's Rhythm.
Madventures is a cutting-edge reality travel show breaking the barriers of TV entertainment. The two fearless backpackers, Riku Rantala and Tuomas "Tunna" Milonoff travel around the globe on a quest to reveal the most bizarre and dangerous secrets of the planet.
The Madventures Travel Guide to Finland is available in Finnish only and can be purchased here.
About the Regions of Gastronomy Platform
Candidate and awarded Regions of Gastronomy, guided by IGCAT, are working together to raise awareness about the importance of their cultural and food uniqueness; stimulate creativity and gastronomic innovation; educate for better nutrition; improve sustainable tourism standards; highlight distinctive food cultures; and strengthen community well-being.
About IGCAT
IGCAT aims to empower local communities by raising awareness of the importance to safeguard and promote distinct food, culture, arts and sustainable tourism assets. This is essential to balance against globalised food trends that are impacting on our planet, health and local economies.
IGCAT is a non-profit institute established in 2012, working with regional stakeholder consortiums in the fields of gastronomy, culture, arts and tourism. It counts on the expertise of a worldwide network of experts and works in partnership with specialised intergovernmental organisations.
IGCAT provides the Region of Gastronomy Award and is the official secretariat for the Regions of Gastronomy Platform. Furthermore, the Institute has developed the Young Chef Award, the Local Food Gift Challenge, the Top Visitor Experience and the Food Film Menu.