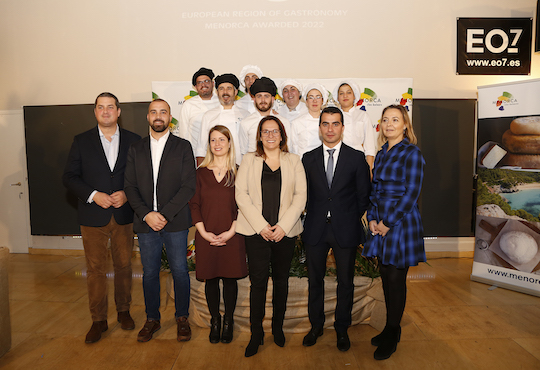 23 January 2020 – Menorca, European Region of Gastronomy awarded 2022 was presented in Madrid in front of 25 food and travel journalists and bloggers from main Spanish media specialised in gastronomy, on 21 January 2020.
Organised by the Fundació Foment del Turisme de Menorca (FFTM), the event highlighted the region's gastronomic richness, its support to local producers and its strong commitment to sustainable development, reinforced by the recent official acknowledgement of Menorca as European Region of Gastronomy 2022.
"The gastronomic ecosystem of Menorca is a small but great world that we want to make even more responsible, healthy and sustainable" affirmed President of Menorca Island Council and of FFTM, Susana Mora.
Together with gastronomic expert and author of Menorca's bid book, Menorca – Timeless Flavour, Borja Beneyto "Matoses", she highlighted that the European Region of Gastronomy programme in Menorca is an inclusive and participatory project, not only for the wide variety of public and private actors involved, but also because it will benefit a huge number of local businesses, professionals and small producers that "everyday commit to enhance our gastronomic heritage."
"We all work together towards the same goal: to make our gastronomy a strong and unique selling point" she added.
International Projects Manager, Fabrizia Toccoli represented IGCAT at the event and explained how the European Region of Gastronomy Award contributes to empower local communities by raising awareness on the importance of safeguarding their cultural and food uniqueness. She also stressed that Menorca's commitment to sustainability, its capacity to successfully combine local food, environmental and cultural resources, as well as the innovative trends that enliven the local gastronomic scene were decisive factors in awarding Menorca as European Region of Gastronomy.
The event concluded with a tasting menu of Menorcan recipes prepared by students and teachers from IES Maria Àngels Cardona school.
About the Regions of Gastronomy Platform
Candidate and awarded Regions of Gastronomy, guided by IGCAT, are working together to raise awareness about the importance of their cultural and food uniqueness; stimulate creativity and gastronomic innovation; educate for better nutrition; improve sustainable tourism standards; highlight distinctive food cultures; and strengthen community well-being.
About IGCAT
IGCAT aims to empower local communities by raising awareness of the importance to safeguard and promote distinct food, culture, arts and sustainable tourism assets. This is essential to balance against globalised food trends that are impacting on our planet, health and local economies.
IGCAT is a non-profit institute established in 2012, working with regional stakeholder consortiums in the fields of gastronomy, culture, arts and tourism. It counts on the expertise of a worldwide network of experts and works in partnership with specialised intergovernmental organisations.
IGCAT provides the Region of Gastronomy Award and is the official secretariat for the Regions of Gastronomy Platform. Furthermore, the Institute has developed the Young Chef Award, the Local Food Gift Challenge, the Top Visitor Experience and the Food Film Menu.
Photo credit: Manel Antoli, RV Edipress