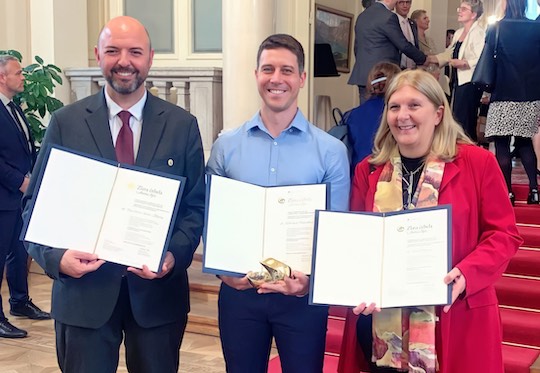 29 May 2023 – Biologist and researcher at the Mediterranean Institute for Advanced Studies (CSIC-UIB), Pau Enric Serra Marín, from Menorca European Region of Gastronomy 2022, was awarded 2nd prize at the Golden Bee Award 2023, organised by the Republic of Slovenia.
Serra submitted his work on Artificial Intelligence applied to the study of Menorca's pollination networks and dissemination of their importance – in which he proposes using the most advanced technologies to manage natural heritage – together with the short film Bee or not to be, that raises awareness about the need of preserving pollinators.
This year in its 3rd edition, the Golden Bee Award "promotes and supports the innovation and excellence of individuals or legal persons who have made a significantly important contribution to protecting bees and other pollinators and raising awareness of their importance around the globe" (source: gov.si). A commitment passionately shared by IGCAT that especially encouraged participation from the World/European Regions of Gastronomy in the competition.
The award ceremony took place at the Presidential Palace in Ljubljana in the presence of President of the Republic of Slovenia, Dr. Nataša Pirc Musar; Ambassador of Spain in Slovenia, Juan de Aristegui Laborde; and Vice-president of Apimondia and IGCAT Expert, Dr. Peter Kozmus. The event was attended by IGCAT Board member and initiator of Menorca, European Region of Gastronomy awarded 2022, Jaume Gomila Saura, who collected the 2nd prize on behalf of Serra. First prize went to Dr. Slobodan Davidović, from Serbia, while Prof. Dr. Fani Hatjina, from Greece obtained 3rd prize.
"The Golden Bee Award represents an important acknowledgement that allows me to carry on my work," claimed Serra. "It is of the utmost importance to disseminate the message that the pollinator population is declining at a global level. A situation that is made worse by alterations in the soil composition, urbanisation, intensive agriculture, pesticides, invasive species, or climate change. We need to call for everyone to plant autochthonous flowers, the pollinators' food source. Concretely, bees are the most efficient pollinators; therefore, we must advocate for ecologic beekeeping methods that are respectful of the environment. At the same time, we need to preserve the whole biodiversity spectrum of pollinators. Not only honey bees, but also all species living in the natural system: butterflies, beetles and other pollinators, such as the sargantanes, the typical lizards from the Balearic Islands."
According to Jaume Gomila, the Golden Bee Award is an inspiring example for biodiversity across the globe, totally aligned with the philosophy and aims of the World/European Regions of Gastronomy. He highlighted how the 2022 title allowed Menorca to make significant steps forward in favour of food sovereignty and its international recognition as a gastronomic destination.
"Slovenia, European Region of Gastronomy awarded 2021 and Menorca, European Region of Gastronomy awarded 2022 keep a strong and long-lasting relationship based on friendship, mutual support and knowledge: a priceless interregional connection that brings the respective countries closer to each other," continued Gomila, who conluded: "In these challenging times, the World/European Regions of Gastronomy represent an encouraging glocal movement that undoubtedly places us on the right side of history." Menorca celebrated their successful participation in the Golden Bee Award 2023 and the World Bee Day (20 May) with an installation of visual artist Cata Olaya that can be admired in the city centre of Mahon.
About the European/World Regions of Gastronomy
Candidate and awarded World/European Regions of Gastronomy, guided by IGCAT, are working together to strengthen food security through the celebration of distinctive food cultures; create employment by stimulating creativity and gastronomic innovation; nourish children and adults through culinary and cultural education; drive environmental sustainability in tourism, hospitality and agricultural sectors; support balance and sustainable tourism practices; highlight and support expertise from within rural and urban communities, creating connections and sharing good practises; and contribute to community health and well-being.
About IGCAT
IGCAT aims to empower local communities by raising awareness of the importance to protect and promote distinct regional food, culture, arts and natural assets as part of sustainable and balanced tourism and development strategies. This is essential to safeguard our planet, health, wellness and local economies.
IGCAT is a non-profit institute established in 2012, working with regional stakeholder consortiums in the fields of gastronomy, culture, arts and tourism. It counts on the expertise of a worldwide network of experts and works in partnership with specialised intergovernmental organisations.
IGCAT founded the World/European Region of Gastronomy Award and is the official secretariat for the World/European Regions of Gastronomy Platforms. Furthermore, the Institute has developed the European Young Chef Award, the World Food Gift Challenge, the Top Websites for Foodie Travelers Award and the international Food Film Menu.