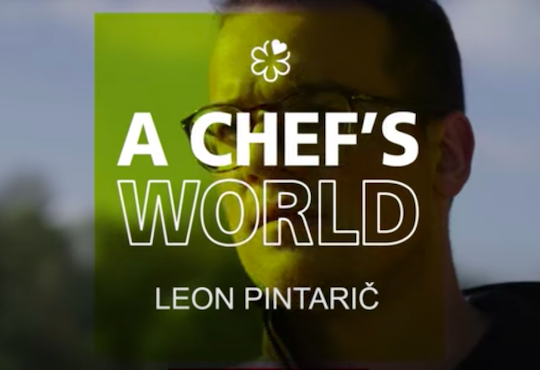 7 March 2022 – Michelin guide released a video starring Leon Pintarič, chef from Gostilna Rajh who was the finalist representing Slovenia, European Region of Gastronomy awarded 2021 at IGCAT's European Young Chef Award 2016.
The video highlights Leon's and his family's approach to cuisine, based on sourcing local, high-quality ingredients and drawing from tradition to produce innovative and creative dishes. An approach that earned Gostilna Rajh several international and national acknowledgements such as: the Michelin Bib Gourmand award (2020 and 2021); the Green Key; and the Slovenia Green Cuisine label.
Leon Pintarič was also selected as young talent of the year by the Gault & Millau Slovenia 2021 gastronomic guide.
The video is the second release of the Michelin guide series A Chef's World aimed at showcasing Slovenia's gastronomy and including two more videos about chef Luka Košir and chef Ksenija Mahorčič.
For more information see: NEW! Michelin video about chef Leon Pintarič (slovenia.info).
About the European/World Regions of Gastronomy
Candidate and awarded European/World Regions of Gastronomy, guided by IGCAT, are working together to strengthen food security through the celebration of distinctive food cultures; create employment by stimulating creativity and gastronomic innovation; nourish children and adults through culinary and cultural education; drive environmental sustainability in tourism, hospitality and agricultural sectors; support balance and sustainable tourism practices; highlight and support expertise from within rural and urban communities, creating connections and sharing good practises; and contribute to community health and well-being.
About IGCAT
IGCAT aims to empower local communities by raising awareness of the importance to protect and promote distinct regional food, culture, arts and natural assets as part of sustainable and balanced tourism and development strategies. This is essential to safeguard our planet, health, wellness and local economies.
IGCAT is a non-profit institute established in 2012, working with regional stakeholder consortiums in the fields of gastronomy, culture, arts and tourism. It counts on the expertise of a worldwide network of experts and works in partnership with specialised intergovernmental organisations.
IGCAT founded the European and World Region of Gastronomy Award and is the official secretariat for the World and European Regions of Gastronomy Platforms. Furthermore, the Institute has developed the European Young Chef Award, the World Food Gift Challenge, the Top Websites for Foodie Travelers Award and the Food Film Menu.