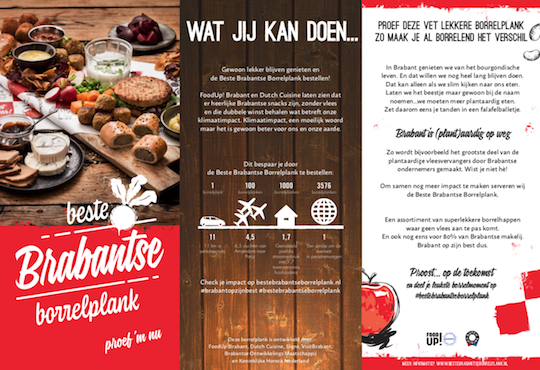 21 April 2021 – A frontrunner in campaigning for the substitution of meat with vegetables, North Brabant, European Region of Gastronomy awarded 2018 is increasingly promoting the local production and consumption of vegetable proteins.
As part of this effort, in 2020 FoodUp Brabant introduced the Best Brabantse Borrelplank (Best Brabant Snack Plate), an initiative to encourage the local catering industry to introduce more locally-produced plant-based food options in their offer.
The Best Brabantse Borrelplank is an assortment of snacks made by North Brabant's companies with 100% vegetable ingredients for local cafes and restaurants to serve to their customers. A win-win concept in terms of boosting local short chains, healthier diets and environmental sustainability.
Although the launch of this initiative took place just before the Covid-19 lockdown, the snack plate was eventually placed on the menu of a select group of businesses in the region and the related promotional campaigns managed to reach 30,000 people via Facebook and Twitter.
When businesses in the catering industry had to close down due to the pandemic, efforts were made to reach people at home and in last autumn and winter, the Best Brabantse Borrelplank was on the delivery and take-away menus of several cafes and restaurants, with hundreds of people ordering it.
Despite the prolonged lockdown, organisers, restaurateurs and producers remain enthusiastic about it. As a result, North Brabant will continue to focus on encouraging plant-based eating with a whole new programme that will be announced later this year.
As part of North Brabant's legacy as European Region of Gastronomy awarded 2018, FoodUp Brabant works on strengthening a local food system in which healthy, fair and tasty food is central. Its main focus areas are connecting farmers and citizens, stimulating new revenue models and involving education and young people. To implement the Best Brabantse Borrelplank, FoodUp Brabant collaborated with other local stakeholders in different sectors, including Sligro, VisitBrabant, Dutch Cuisine, Kip & Ei and Ralf Immens.
About the European and World Regions of Gastronomy
Candidate and awarded European and World Regions of Gastronomy, guided by IGCAT, are working together to strengthen food security through the celebration of distinctive food cultures; create employment by stimulating creativity and gastronomic innovation; nourish children and adults through culinary and cultural education; drive environmental sustainability in tourism, hospitality and agricultural sectors; support balance and sustainable tourism practices; highlight and support expertise from within rural and urban communities, creating connections and sharing good practises; and contribute to community health and well-being.
About IGCAT
IGCAT aims to empower local communities by raising awareness of the importance to protect and promote distinct regional food, culture, arts and natural assets as part of sustainable and balanced tourism and development strategies. This is essential to safeguard our planet, health, wellness and local economies.
IGCAT is a non-profit institute established in 2012, working with regional stakeholder consortiums in the fields of gastronomy, culture, arts and tourism. It counts on the expertise of a worldwide network of experts and works in partnership with specialised intergovernmental organisations. IGCAT founded the European and the World Region of Gastronomy Award and is the official secretariat for the European and World Regions of Gastronomy Platform. Furthermore, the Institute has developed the European Young Chef Award, the European Food Gift Challenge, the Top Visitor Experience and the Food Film Menu.