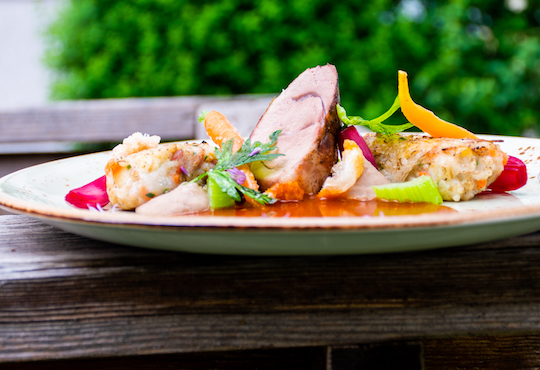 1 June 2020 – Local cuisine and young cooking talents were celebrated in Slovenia, European Region of Gastronomy awarded 2021 at the regional young chef competition, which for the first time took place as a virtual event, due to the exceptional circumstances brought about by the Covid-19 global outbreak.
Organised by the Vocational College of Hospitality and Tourism in Maribor (VSGT Maribor) on 28 May 2020, the competition gathered six participants from three different vocational colleges in Slovenia who competed by presenting their innovations on local traditional recipes live through video conferencing tools.
With his innovation of ričet, a traditional Slovenian barely stew, Jani Dulc from BIC Ljubljana convinced the jury panel chaired by IGCAT Expert, Prof. Janez Bogataj and took home first prize.
Despite not being able to taste them, the jury evaluated the presentation of the dishes by the participants, who through video material and a live interview explained the level of innovation applied, the local ingredients used and the story behind the recipe.
Mojca Polak, from VSGT Maribor stressed that "we are proud that the current circumstances did not hinder the quality and culinary potential of young enthusiasts that will enrich the hospitality industry in the future."
Local young chef competitions held in the Regions of Gastronomy are aimed at selecting finalists that will represent the regions at the European Young Chef Award organised yearly by IGCAT. Due to the unprecedented situation caused by the Covid-19 pandemic, the European Young Chef Award 2020 has been postponed to November 2021 and will take place in Minho, European Region of Gastronomy awarded 2016.
About the Regions of Gastronomy Platform
Candidate and awarded Regions of Gastronomy, guided by IGCAT, are working together to raise awareness about the importance of their cultural and food uniqueness; stimulate creativity and gastronomic innovation; educate for better nutrition; improve sustainable tourism standards; highlight distinctive food cultures; and strengthen community well-being.
About IGCAT
IGCAT aims to empower local communities by raising awareness of the importance to safeguard and promote distinct food, culture, arts and sustainable tourism assets. This is essential to balance against globalised food trends that are impacting on our planet, health and local economies.
IGCAT is a non-profit institute established in 2012, working with regional stakeholder consortiums in the fields of gastronomy, culture, arts and tourism. It counts on the expertise of a worldwide network of experts and works in partnership with specialised intergovernmental organisations.
IGCAT provides the Region of Gastronomy Award and is the official secretariat for the Regions of Gastronomy Platform. Furthermore, the Institute has developed the Young Chef Award, the Local Food Gift Challenge, the Top Visitor Experience and the Food Film Menu.