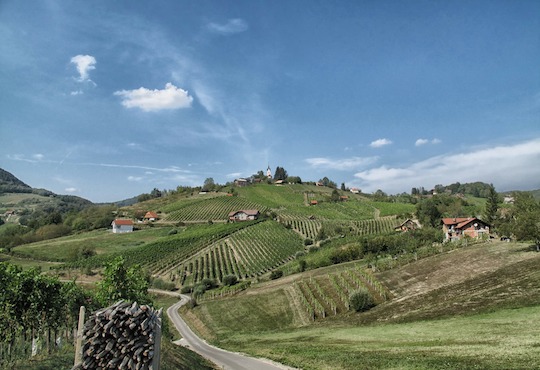 24 November 2020 – Slovenia, European Region of Gastronomy awarded 2021 was highlighted at WTM London 2020 as a destination for excellent active and gastronomic experiences, with a special focus on sustainability.
Over 110 representatives of global media, international influencers and bloggers attended an online press conference on 11 November 2020, where they had the chance to learn about Slovenia's efforts to develop an outstanding offer of 5-star, sustainable experiences related to local food.
Efforts that have been internationally acknowledged through the European Region of Gastronomy 2021 title awarded by IGCAT and this year's inclusion of Slovenia among the Michelin destinations, with the allocation of 7 stars and several Michelin Sustainability Awards.
"Our presence at the WTM Virtual significantly contributes to keeping the attention of the media and the professional public on Slovenia as a sustainable destination for unique, culinary, and active experiences" affirmed Managing Director of the Slovenian Tourist Board (STB), MSc Maja Pak, who also stressed how sustainability and gastronomy have become a major competitive advantage for the region's tourism offer.
"I believe that the rest of Europe has much to learn from Slovenia when it comes to short food supply chains" stated President of IGCAT, Dr. Diane Dodd, who remarked that Slovenia's commitment to strengthen local urban-rural connections – one of the six focus areas of the European Region of Gastronomy programme – has been essential for the region to obtain the 2021 title.
"We cannot have excellent food without local, fresh, and ecologically grown produce. Numerous restaurants in Slovenia have their own gardens or local suppliers, which means that the guest always knows that the food is fresh and of a high quality" concluded Dr. Dodd.
Official ambassador of Slovenia, European Region of Gastronomy awarded 2021, 2-starred chef and recipient of Michelin Sustainability Award, Ana Roš also participated in the press conference. She stressed the vital role of local suppliers and farmers, emphasising that restaurants are not the only segment affected by the current crisis, as the same applies to the entire food supply chain.
"We try to set an example to other restaurants on how to make creative cuisine with a minimal effect on natural resources" added Bine Volčič from Monstera bistro (Ljubljana). Recipient of Michelin's Plate and Sustainability Award, Volčič has successfully managed to connect the urban and the rural environment at his restaurant. Always in search for new ways of cooking to minimise his carbon footprint, he only uses local fresh seasonal ingredients and adopts a zero-waste cuisine philosophy.
Finally, the press conference was also an opportunity to highlight the Slovenian Unique Experiences label, which denotes unique 5-star experiences in the region.
Famous for breeding the excellent Fonda Piran sea bass, for which they introduced a mark of origin and guarantee of quality, Fonda fish farm has obtained the Slovenian Unique Experiences label for offering a top-quality tourist experience: A Day at the Fonda Fish Farm.
"A visit to our fish farm is a unique and authentic experience, accompanied by getting to know the sea with an emphasis on sustainability and business in harmony with nature" stressed Managing Director, Dr.Irena Fonda.
The 41st edition of the World Travel Market took place as a virtual event on 9-11 November under the theme Recover. Rebuild. Innovate.
To know more about Slovenia's presence at WTM London 2020 read STB's press release Slovenia showcased as a destination of five-star gastronomic and outdoor experiences at WTM London 2020.
About the Regions of Gastronomy Platform
Candidate and awarded Regions of Gastronomy, guided by IGCAT, are working together to raise awareness about the importance of their cultural and food uniqueness; stimulate creativity and gastronomic innovation; educate for better nutrition; improve sustainable tourism standards; highlight distinctive food cultures; and strengthen community well-being.
About IGCAT
IGCAT aims to empower local communities by raising awareness of the importance to safeguard and promote distinct food, culture, arts and sustainable tourism assets. This is essential to balance against globalised food trends that are impacting on our planet, health and local economies.
IGCAT is a non-profit institute established in 2012, working with regional stakeholder consortiums in the fields of gastronomy, culture, arts and tourism. It counts on the expertise of a worldwide network of experts and works in partnership with specialised intergovernmental organisations.
IGCAT provides the Region of Gastronomy Award and is the official secretariat for the Regions of Gastronomy Platform. Furthermore, the Institute has developed the Young Chef Award, the Local Food Gift Challenge, the Top Visitor Experience and the Food Film Menu.
Photo credit: David Mark from Pixabay