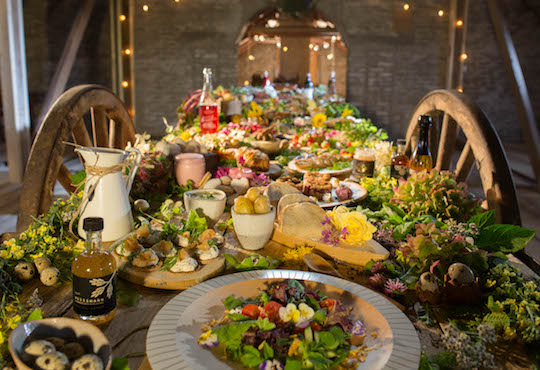 23 October 2020 – The overall winner and two runners-up of IGCAT's Food Film Menu 2020 were shown at the first edition of the Food Film Day (Kinoa ja Kukkoa) held in Kuopio, European Region of Gastronomy awarded 2020-2021.
Levi Devžej (1st prize from Slovenia, European Region of Gastronomy awarded 2021), Home of Nordic Flavours 2020 (2nd prize from Trondheim-Trøndelag 2022) and Mayonnaise, The Universal Sauce (3rd prize from Menorca 2022) were screened on 15 October alongside a mouth-watering array of gastronomic short films produced in the Kuopio region.
Two short films were premiered at the event. The first one was the final episode of Makumittelö, a miniseries promoting the Nordic diet through Finnish top-notch social media influencers Lotta Saahko, Janne Kaperi and Joonas Pesonen.
The miniseries shows the three influencers foraging local ingredients from farms, forests and lakes throughout the North Savo region. In the final episode, they compete using the collected products to cook a three-course meal with the aid of some of the best chefs in the Kuopio region. The series was conceived and produced by Makugassi – Matkailun, kulttuurin ja gastronomian sillanrakentajat ry.
The second premiere was the short film Savonian Secret, a celebration of North Savo's fresh and pure nature, its local producers, and its richness in local tasty ingredients.
Produced by BrainyDay Visual Oy, the short film was commissioned by Savonia University of Applied Sciences in the framework of the project Savonia is a Taste of Mind, part of the European Region of Gastronomy 2020-2021 programme.
An important legacy of Kuopio's European Region of Gastronomy title, the Kuopio Food Film Day is planned to be established as an annual event to present the latest and best gastronomic short films from Europe and the world.
Watch all the category winners of the Food Film Menu 2020.
About the Regions of Gastronomy Platform
Candidate and awarded Regions of Gastronomy, guided by IGCAT, are working together to raise awareness about the importance of their cultural and food uniqueness; stimulate creativity and gastronomic innovation; educate for better nutrition; improve sustainable tourism standards; highlight distinctive food cultures; and strengthen community well-being.
About IGCAT
IGCAT aims to empower local communities by raising awareness of the importance to safeguard and promote distinct food, culture, arts and sustainable tourism assets. This is essential to balance against globalised food trends that are impacting on our planet, health and local economies.
IGCAT is a non-profit institute established in 2012, working with regional stakeholder consortiums in the fields of gastronomy, culture, arts and tourism. It counts on the expertise of a worldwide network of experts and works in partnership with specialised intergovernmental organisations.
IGCAT provides the Region of Gastronomy Award and is the official secretariat for the Regions of Gastronomy Platform. Furthermore, the Institute has developed the Young Chef Award, the Local Food Gift Challenge, the Top Visitor Experience and the Food Film Menu.