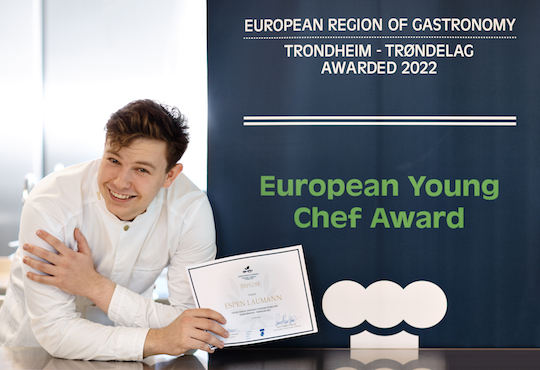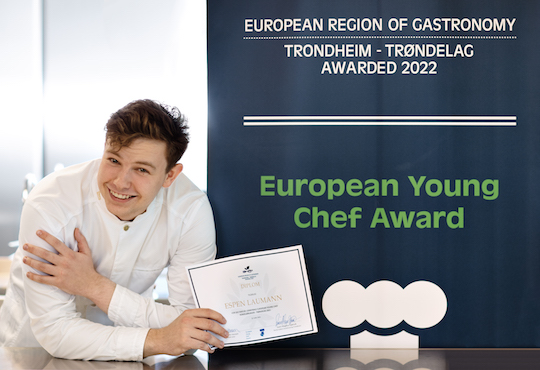 25 June 2021 – A mystery box full of top-quality local products and two hours and a half to cook them and impress a jury of experts. This was the challenge for two young talents from Trondheim-Trøndelag, European Region of Gastronomy awarded 2022, to earn a place in IGCAT's European Young Chef Award 2021.
Both of them had to prepare one starter and one main course with the ingredients provided. Eventually, apprentice at Britannia Hotel, Epen Laumann managed to win the local competition and become the region's representative at the European final, to be held in Minho, European Region of Gastronomy awarded 2016 (Portugal), on 23-24 November 2021.
"I was surprised when I opened the box and saw all the amazing ingredients we had, such as langoustine from Hitra and reindeer from Røros, UNESCO World Heritage Site" stated Epen with a big smile on his face.
His winning menu included a starter of grilled langoustine served with avocado, baked beetroot, asparges and Hollandaise sauce from langoustine-butter; and a main course of smoked reindeer with cauliflower, fried kale, fried oyster mushrooms, creamed potato and creamed venison sauce.
A combination that convinced the jury and allowed Epen to eventually overcome his competitor Lui Lunøe, apprentice at Bula Bistro. The jury panel was chaired by chef Jan Kåre Johansen, who stayed in the kitchen and closely observed the entire preparation process. Four other judges tasted the dishes and agreed on the winner: Veronica Antonsen and Svein Magnus Gjønvik, from the Norwegian Chefs' National Association – Trondheim; Ole Kristian Hansen, from Danske Bank; and Greta Stegavik Koteng, from Koteng real estate.
About the Regions of Gastronomy Platform
Candidate and awarded Regions of Gastronomy, guided by IGCAT, are working together to raise awareness about the importance of their cultural and food uniqueness; stimulate creativity and gastronomic innovation; educate for better nutrition; improve sustainable tourism standards; highlight distinctive food cultures; and strengthen community well-being.
About IGCAT
IGCAT aims to empower local communities by raising awareness of the importance to safeguard and promote distinct food, culture, arts and sustainable tourism assets. This is essential to balance against globalised food trends that are impacting on our planet, health and local economies.
IGCAT is a non-profit institute established in 2012, working with regional stakeholder consortiums in the fields of gastronomy, culture, arts and tourism. It counts on the expertise of a worldwide network of experts and works in partnership with specialised intergovernmental organisations.
IGCAT provides the Region of Gastronomy Award and is the official secretariat for the European and World Regions of Gastronomy Platform. Furthermore, the Institute has developed the European Young Chef Award, the European Food Gift Challenge, the Top Visitor Experience and the Food Film Menu.
Photo credit: Lars Bugge Aarseth