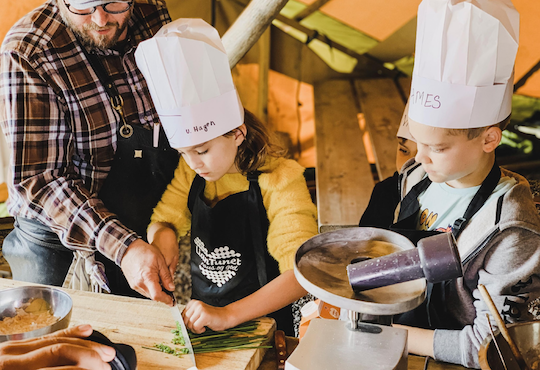 20 December 2021 – "The European Region of Gastronomy is […] a tribute to local food and local specialties. It's a tribute to a region that takes local food production seriously throughout the entire value chain. It's a tribute to the farmers, fishermen and breeders who conjure up the most delicious produce with tender love and care in every nook and cranny of Trøndelag for the Trøndelag chefs' society, which knows how to utilise world-class local produce in their work." (norwayfoodregion.com)
These are the values that underpin Trondheim-Trøndelag's programme as European Region of Gastronomy 2022 that was officially launched on 14 December 2021 with a livestreamed event from Trondheim Christmas market.
The programme offers a series of events and initiatives devoted to different audiences – such as children, schools at all levels, the food industry and the general public – and aimed to achieve four major goals for Trondheim-Trøndelag:
increasing cooperation between rural and urban areas to become an international food region;
being recognised as an international food destination;
enhancing local sustainable food chains;
becoming a leader in recruitment for the food and tourism industries.
A calendar of events for 2022 is available on Trondheim-Trøndelag's website and includes a rich array of gastronomy-related initiatives, ranging from conferences and seminars about food, to tastings, food courses, special dinners and menus, concerts combining entertainment and local food, festivals with local food on the menu, and many more.
Varied and dynamic, Trondheim-Trøndelag's official programme as European Region of Gastronomy 2022 is open for both new and existing initiatives to submit throughout the year, provided that they meet a series of criteria: the event/project is based in Trøndelag region; it promotes, celebrates or builds identity around Trøndelag's food and drink heritage; it supports sustainable food production and contributes to build a connection between the rural and urban settings; if the event is an existing one, it must do something out of the ordinary in 2022.
As part of their programme, the region has also launched a certificate for all local stakeholders that wish to sign up to the Trøndelag Food Manifesto. 160 different businesses have joined the initiative already, including restaurants, producers, accommodation facilities, events and shops.
Find out more about Trondheim-Trøndelag, European Region of Gastronomy 2022 programme at www.norwayfoodregion.com.
About the European and World Regions of Gastronomy
Candidate and awarded European and World Regions of Gastronomy, guided by IGCAT, are working together to strengthen food security through the celebration of distinctive food cultures; create employment by stimulating creativity and gastronomic innovation; nourish children and adults through culinary and cultural education; drive environmental sustainability in tourism, hospitality and agricultural sectors; support balance and sustainable tourism practices; highlight and support expertise from within rural and urban communities, creating connections and sharing good practises; and contribute to community health and well-being.
About IGCAT
IGCAT aims to empower local communities by raising awareness of the importance to protect and promote distinct regional food, culture, arts and natural assets as part of sustainable and balanced tourism and development strategies. This is essential to safeguard our planet, health, wellness and local economies.
IGCAT is a non-profit institute established in 2012, working with regional stakeholder consortiums in the fields of gastronomy, culture, arts and tourism. It counts on the expertise of a worldwide network of experts and works in partnership with specialised intergovernmental organisations.
IGCAT founded the European and the World Region of Gastronomy Award and is the official secretariat for the European and World Regions of Gastronomy Platform. Furthermore, the Institute has developed the European Young Chef Award, the European Food Gift Challenge, the Top Websites for Foodie Travelers and the Food Film Menu.