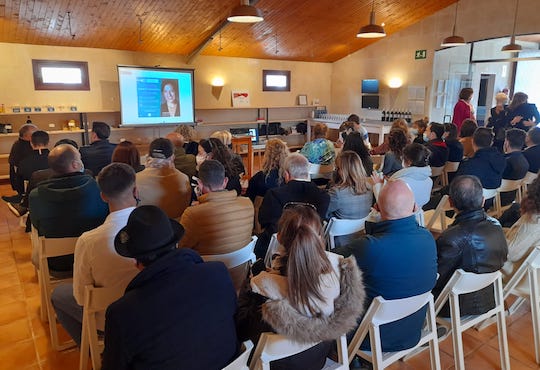 11 March 2022 – Over 70 representatives from the food and tourism sector participated in Cómete Menorca's Súper Lunes (Super Monday) an annual event held in Menorca, awarded European Region of Gastronomy 2022 by IGCAT.
After two years of forced stop due to the pandemic, Cómete Menorca (an online guide of restaurants and gastronomic experiences on the island) managed to celebrate the Súper Lunes again for local food and tourism actors to meet and discuss opportunities for the island's gastronomic and hospitality sector.
Held in Hort de Sant Patrici, the event was enriched with the participation of IGCAT Expert Caroline Couret, Co-Founder and Director of the Creative Tourism Network that awarded Cómete Menorca as Best Creative Experience in the framework of their annual Creative Tourism Awards.
In her intervention titled Gastronomy, the Star Dish of Creative Tourism, Couret emphasised that Menorca counts on plentiful values and resources to position itself as an ideal destination for creative tourism, a trend in the rise among contemporary travellers.
Couret highlighted how today's visitors tend to choose their destinations based on the local offer of activities and experiences, rather than choosing the destination first and check afterwards what activities are available there. She also reported about a number of success stories from all over the world where small businesses managed to attract new tourist segments by building creative and innovative experiences, always based on authenticity and the active involvement of local stakeholders.
Managing Director of Cómete Menorca, Sión Bosch welcomed the large attendance to the event by several local actors including chefs, restaurateurs, hoteliers, tourism businesses, social media influencers, marketing firms, food photographers, etc.
Co-Owner of Cómete Menorca, Antoni Juaneda and Antoni Febrer, from the online marketing firm Kodea Web, presented the activities implemented by Cómete Menorca in 2021 and the website's proposals for 2022, in the framework of the island's European Region of Gastronomy title. Both stressed how the online portal managed to increase its visitors' number in the last two years despite the pandemic, especially thanks to the work carried out on social media to promote Menorca as a food destination.
The Súper Lunes concluded with a cooking show by young chef José María Borrás, from Santa Marianna de Alaior rural house, who got 2nd prize at the 1st National Contest for Cooking the Vaca Vermella (endangered red cattle breed typical from Menorca) on 6 March 2022. He prepared three creative dishes using local products from the island.
About the European/World Regions of Gastronomy
Candidate and awarded European/World Regions of Gastronomy, guided by IGCAT, are working together to strengthen food security through the celebration of distinctive food cultures; create employment by stimulating creativity and gastronomic innovation; nourish children and adults through culinary and cultural education; drive environmental sustainability in tourism, hospitality and agricultural sectors; support balance and sustainable tourism practices; highlight and support expertise from within rural and urban communities, creating connections and sharing good practises; and contribute to community health and well-being.
About IGCAT
IGCAT aims to empower local communities by raising awareness of the importance to protect and promote distinct regional food, culture, arts and natural assets as part of sustainable and balanced tourism and development strategies. This is essential to safeguard our planet, health, wellness and local economies.
IGCAT is a non-profit institute established in 2012, working with regional stakeholder consortiums in the fields of gastronomy, culture, arts and tourism. It counts on the expertise of a worldwide network of experts and works in partnership with specialised intergovernmental organisations.
IGCAT founded the European and World Region of Gastronomy Award and is the official secretariat for the World and European Regions of Gastronomy Platforms. Furthermore, the Institute has developed the European Young Chef Award, the World Food Gift Challenge, the Top Websites for Foodie Travelers Award and the Food Film Menu.