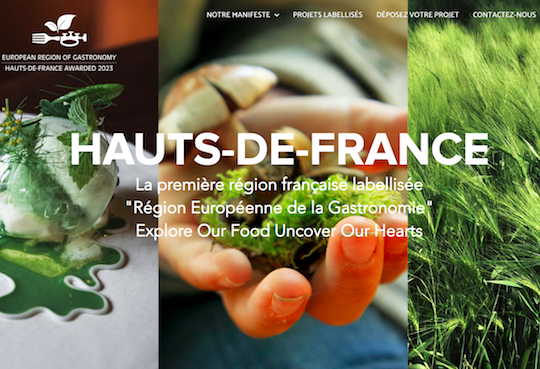 28 September 2021 – After a successful candidacy process, Hauts-de-France was officially awarded European Region of Gastronomy 2023 on Monday 27 September in Le Touquet. It is the first region in France to receive such accolade.
The good news was announced at a press conference joined by representatives from the founding stakeholders in the region, such as the Tourism and Innovation Trades and Qualifications Campus, run by the hotel school of Le Touquet, the Hauts-de-France Region, the Regional Chamber of Agriculture, the Hauts-de-France CCI, and the Federation of Hauts-de-France Tourist Offices.
President of IGCAT, Dr. Diane Dodd participated in the event through a video where she congratulated Hauts-de-France for obtaining the 2023 title and symbolically awarded them with the European Region of Gastronomy certificate.
"I have been deeply impressed by the multiple chefs that work sustainably as a matter of principle, as well as the variety of gastronomy related visitor experiences that create opportunities for new jobs in sustainable, food and culture tourism markets. Hauts-de-France has always been known for its agricultural strengths but now it is also recognised for its cultural and gastronomy assets," she remarked.
Besides positioning the region as an internationally recognised gastronomic destination, Hauts-de-France intends to use the European Region of Gastronomy 2023 title to develop a programme of initiatives and projects aimed at: producing differently to eat better; innovating to create value and sustainable jobs; strengthening the links between rural and urban areas; ensuring tourism sustainability; educating for the future; and promoting the well-being of residents and visitors.
An open call has been launched on the official website of Hauts-de-France, European Region of Gastronomy awarded 2023, where regional actors can submit projects, initiatives and events in one or more of the above focus areas to be included into the region's official programme for 2023. Hauts-de-France was awarded the European Region of Gastronomy 2023 title on the basis of its bid book Explore our Food. Uncover our Hearts and the recommendation of an international jury of IGCAT Experts that visited the region and acknowledged its remarkable commitment to sustainability; the excellent quality of a local gastronomy strongly based on the use of local products; and the wide stakeholder participation in the bidding process.
About the European and World Regions of Gastronomy
Candidate and awarded European and World Regions of Gastronomy, guided by IGCAT, are working together to strengthen food security through the celebration of distinctive food cultures; create employment by stimulating creativity and gastronomic innovation; nourish children and adults through culinary and cultural education; drive environmental sustainability in tourism, hospitality and agricultural sectors; support balance and sustainable tourism practices; highlight and support expertise from within rural and urban communities, creating connections and sharing good practises; and contribute to community health and well-being.
About IGCAT
IGCAT aims to empower local communities by raising awareness of the importance to protect and promote distinct regional food, culture, arts and natural assets as part of sustainable and balanced tourism and development strategies. This is essential to safeguard our planet, health, wellness and local economies.
IGCAT is a non-profit institute established in 2012, working with regional stakeholder consortiums in the fields of gastronomy, culture, arts and tourism. It counts on the expertise of a worldwide network of experts and works in partnership with specialised intergovernmental organisations. IGCAT founded the European and the World Region of Gastronomy Award and is the official secretariat for the European and World Regions of Gastronomy Platform. Furthermore, the Institute has developed the European Young Chef Award, the European Food Gift Challenge, the Top Visitor Experience Portal and the Food Film Menu.