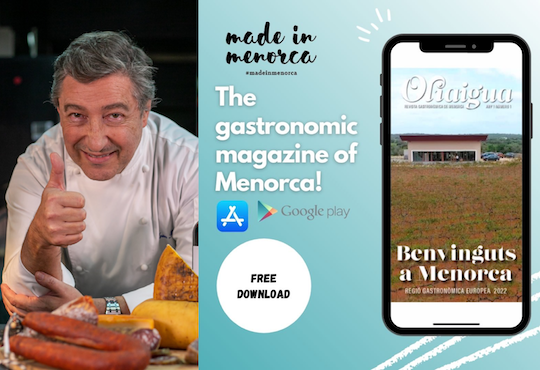 9 February 2021 – Menorca, awarded European Region of Gastronomy 2022 by IGCAT has launched Oliaigua, a digital magazine promoting the food scene and culture of the island.
Edited by the Island Council of Menorca in three languages (Catalan, Spanish and English), this innovative publication has been created as a free and interactive mobile app that enhances the visibility of the local food sector, both within the island and abroad.
Named after a traditional recipe of Menorca, Oliaigua "will offer a greater dissemination of our local food values and highlight innovative and significant initiatives on our island" explained Susana Mora, President of the Island Council of Menorca.
"It will promote our gastronomy as the means par excellence for sustainable development" she concluded.
A cross-sectoral project involving the public, private and third sector of Menorca, Oliaigua will be published quarterly with the collaboration of various personalities from the island: Bep Al·lès, gastronomy expert; Ruth Llopis, renowned local artist; Francesc Font, agricultural technician; Borja Beneito, gastronomy expert; Sara Sanchís, sommelier; David Baret, journalist; Edu Cendán, journalist; Fra Roger, local gastronomic association; and Luisa Coll, coordinator of Menorca, European Region of Gastronomy awarded 2022.
The publication is officially endorsed by Joan Roca, Best World Chef in 2017 and 2018 and official ambassador of IGCAT's European Young Chef Award, and will work as a tool to promote Menorca's programme as European Region of Gastronomy 2022.
Developed by Esguard Publicacions, the app offers multimedia contents including texts, videos, audios and games.
Download Oliaigua at: Google Play and App Store.
Watch the press conference of the Insular Council of Menorca to launch the app (in Catalan).
About the Regions of Gastronomy Platform
Candidate and awarded Regions of Gastronomy, guided by IGCAT, are working together to raise awareness about the importance of their cultural and food uniqueness; stimulate creativity and gastronomic innovation; educate for better nutrition; improve sustainable tourism standards; highlight distinctive food cultures; and strengthen community well-being.
About IGCAT
IGCAT aims to empower local communities by raising awareness of the importance to safeguard and promote distinct food, culture, arts and sustainable tourism assets. This is essential to balance against globalised food trends that are impacting on our planet, health and local economies.
IGCAT is a non-profit institute established in 2012, working with regional stakeholder consortiums in the fields of gastronomy, culture, arts and tourism. It counts on the expertise of a worldwide network of experts and works in partnership with specialised intergovernmental organisations.
IGCAT provides the Region of Gastronomy Award and is the official secretariat for the European and World Regions of Gastronomy Platform. Furthermore, the Institute has developed the European Young Chef Award, the European Food Gift Challenge, the Top Visitor Experience and the Food Film Menu.