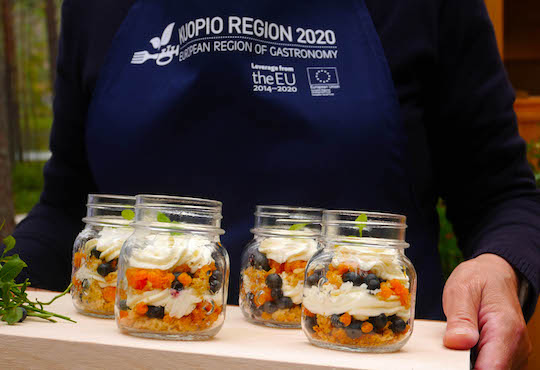 29 June 2021 – Three initiatives from Kuopio, European Region of Gastronomy awarded 2020-21 are among the finalists of the Hungry for Finland national food tourism competition 2021, organised to boost and award top experiential food tourism products in the country.
Out of 77 submissions, the competition's jury panel shortlisted 14 food tourism products. Winners and honourable mentions of the Hungry for Finland competition will be announced on 16 September 2021 at Helsinki City Hall.
Finalists from Kuopio Region include:
1. Kuopio Region's offer combining SATOA Kuopio Food Festival, SATOA Goes WILD Food Festival and the European Region of Gastronomy 2020-21 programme, led by Eastern Finland Rural Women's Advisory Organisation / ProAgria (www.tastesavo.fi).
"Together with local companies in the food, tourism and creative industries, we have built a wonderful offer for tourists to taste, live and experience the Kuopio Region. For this work, we have already been awarded the European Region of Gastronomy title for 2020-21. The Hungry for Finland competition final is a good continuation of it" stated Ilona Sares, International Executive Director at Eastern Finland Rural Women's Advisory Organisation / ProAgria.
"COVID-19 has brought about a lot of challenges for the organisers of the event, and it's really gratifying to hear that we made it to the Hungry for Finland final! We welcome everyone to discover SATOA food festival in August and to experience the tastiest region in Europe through all the senses. The food festival is a celebration of local flavours where people can taste high-quality street food made with local ingredients by our wonderful restaurants" commented Taina Laitinen, from Eastern Finland Rural Women's Advisory Organisation / ProAgria and producer of SATOA Festivals.
The SATOA festivals were implemented in 2015-2018 with the support of the FoodSavo project, aiming to make Kuopio Region a well-known food region both nationwide and internationally by 2020. Organized for the first time in 2014, the SATOA Food Festival was awarded as Event of the Year by the City of Kuopio. In 2017, Visit Finland and Haaga-Helia University of Applied Sciences included it in Finland's top fourteen food tourism products.
2. Extended Dinner, Ravintolamestarit, Kuopio (product under development). By using virtual reality, the Extended Dinner allow customers to experience Kuopio's nature and ingredients through all their senses. A disrupting proposal that combines gastronomy with the gaming world, the dinner is a strongly visual experience based on stories about local food and nature written by author Antti Heikkinen.
"We wanted to create a whole new, experiential product where local nature, seasons and ingredients are experienced holistically through virtual glasses, and the use of sounds, scents and tastes" affirmed Eeva Mertanen, CEO of Ravintolamestarit and official ambassador of Kuopio, European Regio of Gastronomy awarded 2020-21.
3. Gastrotrain, GreenEscape Oy, Lapinlahti (product under development). The Gastrotrain is a unique Slow Travel concept that combines gastronomy, culture and nature by offering an atmospheric train ride on a steam locomotive with experiential dining moments and cultural events. Targeted at both domestic and international travelers, the Gastrotrain aims to develop short-chain food, restaurant and tourism networks.
"Gastronomy is always an integral part of people and local culture – and this is what we try to convey through the Gastrotrain! By offering innovative local food experiences and combining them with stories of farmers, fishermen, top entrepreneurs, local artists, artisans and festivals, we travel slowly to unique destinations in Finland!" commented Parvathy Venugopal, CEO of GreenEscape.
About the European and World Regions of Gastronomy
Candidate and awarded European and World Regions of Gastronomy, guided by IGCAT, are working together to strengthen food security through the celebration of distinctive food cultures; create employment by stimulating creativity and gastronomic innovation; nourish children and adults through culinary and cultural education; drive environmental sustainability in tourism, hospitality and agricultural sectors; support balance and sustainable tourism practices; highlight and support expertise from within rural and urban communities, creating connections and sharing good practises; and contribute to community health and well-being.
About IGCAT
IGCAT aims to empower local communities by raising awareness of the importance to protect and promote distinct regional food, culture, arts and natural assets as part of sustainable and balanced tourism and development strategies. This is essential to safeguard our planet, health, wellness and local economies.
IGCAT is a non-profit institute established in 2012, working with regional stakeholder consortiums in the fields of gastronomy, culture, arts and tourism. It counts on the expertise of a worldwide network of experts and works in partnership with specialised intergovernmental organisations. IGCAT founded the European and the World Region of Gastronomy Award and is the official secretariat for the European and World Regions of Gastronomy Platform. Furthermore, the Institute has developed the European Young Chef Award, the European Food Gift Challenge, the Top Visitor Experience and the Food Film Menu.