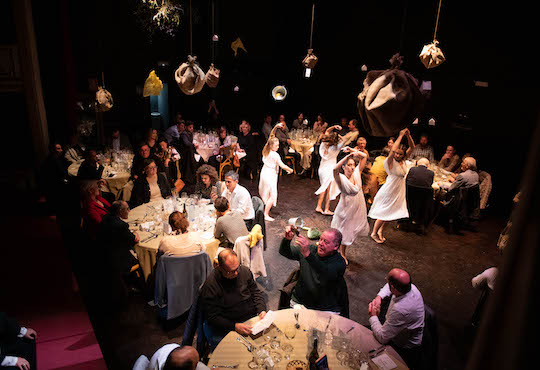 7 December 2022 – A unique combination of arts, music, dance and local food, the Made in Menorca: Insólit event celebrated the successful title year of Menorca European Region of Gastronomy 2022 with a surprising trip across the island's gastronomy.
The event was also an occasion to symbolically pass the baton to Hauts-de-France, awarded European Region of Gastronomy for 2023 by the International Institute of Gastronomy, Culture, Arts and Tourism (IGCAT), as well as reinforce Menorca's commitment to build a strong legacy of its title year.
Held on 2 and 3 December at the Teatre des Born, Made in Menorca: Insólit opened with an unusual welcome cocktail made by José Carlos Camps with local ingredients such as dolçamar honey and olive oil, and accompanied by Marc Bosch's saxophone.
The main act was performed by Teatre Clavé theater company, and paired music and dance with a special menu created by Sílvia Anglada and Toni Tarragó from the Slow Food certified restaurant Es Tast de na Sílvia.
"During its title year, Menorca strongly positioned itself on the global gastronomic map," claimed President of IGCAT, Diane Dodd PhD. "The different stakeholders committed to work together with a shared aim as never seen before on the island. In this sense, Menorca will be a role model for the future European Regions of Gastronomy," she concluded.
Menorca's Councillor for Economy, Josep Pastrana highlighted how the joint endeavour of all local stakeholders is a source of pride for the island and that they will keep working together to achieve even more in the future.
Insular Director of Economy, Pilar Pons commended the "efforts of our primary sector to provide top quality products for our table; a harsh daily task. Gastronomy starts from the land, with our farmers; without them there would be no cuisine. It is thanks to the synergies among our producers and chefs that we were able to demonstrate our gastronomic excellence across Europe." The Made in Menorca: Insólit event was held on 2 December for all the stakeholders supporting the European Region of Gastronomy programme, the institutions, as well as representatives of the Made in Menorca products. On 3 December, the show was open to the general public at an affordable price, so that anyone could join and celebrate Menorca's title year.
About the European/World Regions of Gastronomy
Candidate and awarded World/European Regions of Gastronomy, guided by IGCAT, are working together to strengthen food security through the celebration of distinctive food cultures; create employment by stimulating creativity and gastronomic innovation; nourish children and adults through culinary and cultural education; drive environmental sustainability in tourism, hospitality and agricultural sectors; support balance and sustainable tourism practices; highlight and support expertise from within rural and urban communities, creating connections and sharing good practises; and contribute to community health and well-being.
About IGCAT
IGCAT aims to empower local communities by raising awareness of the importance to protect and promote distinct regional food, culture, arts and natural assets as part of sustainable and balanced tourism and development strategies. This is essential to safeguard our planet, health, wellness and local economies.
IGCAT is a non-profit institute established in 2012, working with regional stakeholder consortiums in the fields of gastronomy, culture, arts and tourism. It counts on the expertise of a worldwide network of experts and works in partnership with specialised intergovernmental organisations.
IGCAT founded the World/European Region of Gastronomy Award and is the official secretariat for the World/European Regions of Gastronomy Platforms. Furthermore, the Institute has developed the European Young Chef Award, the World Food Gift Challenge, the Top Websites for Foodie Travelers Award and the international Food Film Menu.