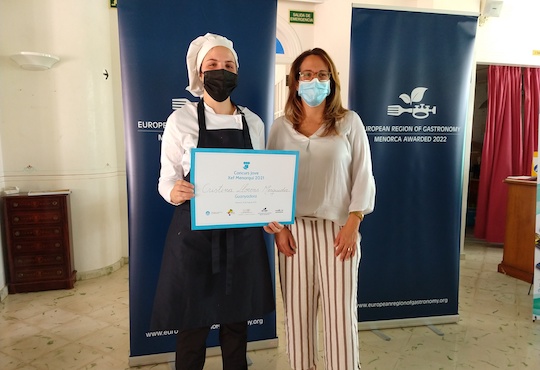 25 May 2021 – Cristina Llorens is the young talent who will represent Menorca, European Region of Gastronomy awarded 2022, at the European Young Chef Award 2021.
Following a long and hard-fought cooking competition, 25-year old Cristina Llorens was selected as Menorcan Young Chef 2021 and will represent the island at IGCAT's European Young Chef Award 2021 to be held in Minho, European Region of Gastronomy awarded 2016 (Portugal), next November.
Cristina Llorens, together with Julia Arroyo, Emir Montilla, Carlos García and José María Borràs, was shortlisted to participate in the the local competition in Menorca that was celebrated at restaurant Ca n'Aguedet des Mercadal on 15 May 2021.
All participants were asked to prepare a traditional dish of the Menorcan cuisine and elaborate an innovative version of the same, always using local seasonal products. Cristina reinterpreted the traditional greixera, a recipe based on pig's trotters that she proposed in an innovative version with cheese.
With a degree in Kitchen Management, Cristina has always lived in the countryside and affirms that her cuisine is inspired by her mother and grandmothers.
The jury recognised they had a hard task due to the high level demonstrated by all participants and their excellent technical skills. The panel included: Daniel González Mora, chef and owner of restaurant Sa Pedrera des Pujol; Clara Florit Serra, Menorcan Young Chef 2019; Borja Beneyto "Matoses", food critic and consultant; and Roser Mercadal Mascaró, vice-president of the association Fra Roger Gastronomia i Cultura.
The award ceremony was attended by Susana Mora, President of the Island Council of Menorca; Josep Pastrana, Councillor of Economy and Territory; Pilar Pons, Director of Economy at the Island Council; Elena Costa, Director of the Fundació Foment del Turisme de Menorca (FFTM); and Jaume Gomila, IGCAT Expert and initiator of Menorca's programme as European Region of Gastronomy.
Susana Mora congratulated all participants and commented that, given the high level demonstrated by this new generation of chefs, Menorca's restaurants are facing a bright future. She also recognised the important role that the young chefs play in showcasing local identity and food products.
About the European Young Chef Award
The European Young Chef Award 2021 is a competition organised and promoted by the International Institute of Gastronomy, Culture, Arts and Tourism (IGCAT) in collaboration with Minho, European Region of Gastronomy awarded 2016. The European Young Chef Award gathers finalists of regional contests from around Europe to present and exchange knowledge about traditional dishes and local food products from their regions and then compete proposing their innovative reinterpretation of traditional recipes, judged by star chefs and international experts.
About the European and World Regions of Gastronomy
Candidate and awarded European and World Regions of Gastronomy, guided by IGCAT, are working together to strengthen food security through the celebration of distinctive food cultures; create employment by stimulating creativity and gastronomic innovation; nourish children and adults through culinary and cultural education; drive environmental sustainability in tourism, hospitality and agricultural sectors; support balance and sustainable tourism practices; highlight and support expertise from within rural and urban communities, creating connections and sharing good practises; and contribute to community health and well-being.
About IGCAT
IGCAT aims to empower local communities by raising awareness of the importance to protect and promote distinct regional food, culture, arts and natural assets as part of sustainable and balanced tourism and development strategies. This is essential to safeguard our planet, health, wellness and local economies.
IGCAT is a non-profit institute established in 2012, working with regional stakeholder consortiums in the fields of gastronomy, culture, arts and tourism. It counts on the expertise of a worldwide network of experts and works in partnership with specialised intergovernmental organisations.
IGCAT founded the European and the World Region of Gastronomy Award and is the official secretariat for the European and World Regions of Gastronomy Platform. Furthermore, the Institute has developed the European Young Chef Award, the European Food Gift Challenge, the Top Visitor Experience and the Food Film Menu.