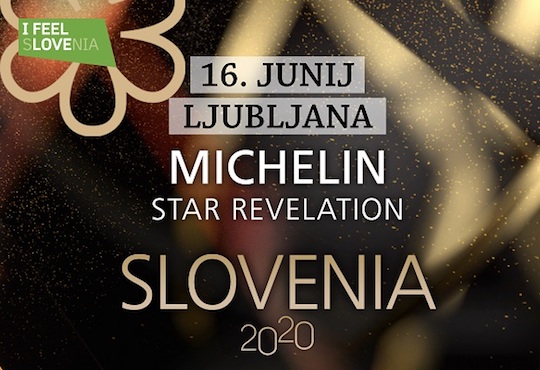 19 June 2020 – The excellent gastronomy of Slovenia, European Region of Gastronomy awarded 2021 was highlighted at the first Michelin Stars Revelation event ever held in the country, on 16 June 2020.
The event marked a further step in Slovenia's path to be internationally recognised as a culinary destination that successfully combines genuine food traditions with innovation, sustainability and local high-quality products.
Restaurant Hiša Franko of chef and official European Region of Gastronomy ambassador for Slovenia, Ana Roš was awarded 2 stars. According to Michelin Guide's website, her unique menu is "a tribute to nature" that "gives pride of place to regional products and offers an exceptional dining experience of wonderfully balanced flavours."
Five more restaurants were awarded their first Michelin star (Gostilna pri Lojzetu of chef Tomaž Kavčič; Hiša Denk of chef Gregor Vračko; Vila Podvin of chef Uroš Štefelin; Restavracija Atelje of chef Jorg Zupan; and Restavracija Dam of chef Uroš Fakuč), while 9 Bib Gourmand restaurants and 37 Plate restaurants were announced (see full selection here).
Six chefs also received the special sustainability award for their "commitment to commendable environmental practices and ingenuity reflected in the sustainable practices used in everyday work." These included:Ana Roš (Hiša Franko); Ksenija Krajšek Mahorčič (Gostilna Mahorčič); Luka Košir (Gostilna Grič); Uroš Gorjanc (Gostilna Krištof); Davide Cresci (Gostilna za Gradom); and Bine Volčič (Monstera Bistro).
"The publication of this new Michelin Guide confirms that Slovenia has a fine score to play in the concert of the world's top gastronomic destinations" noted International Director of the Michelin Guides, Gwendal Poullennec who added: "Indeed, during their tours through the country's different regions, our inspectors were charmed by an authentic culinary scene of very high potential which promises to delight even the most demanding gourmets. With its many influences and varied terroirs, the talent and creativity of its chefs, the exceptional quality of its local products and the focus on sustainability, Slovenia is home to restaurants that fully deserve to be discovered."
Slovenia was awarded the European Region of Gastronomy 2021 title by IGCAT thanks to the local gastronomic strengths and strong commitment to sustainability demonstrated in the region's programme Taste Slovenia and their vision for the gastronomic region.
About the Regions of Gastronomy Platform
Candidate and awarded Regions of Gastronomy, guided by IGCAT, are working together to raise awareness about the importance of their cultural and food uniqueness; stimulate creativity and gastronomic innovation; educate for better nutrition; improve sustainable tourism standards; highlight distinctive food cultures; and strengthen community well-being.
About IGCAT
IGCAT aims to empower local communities by raising awareness of the importance to safeguard and promote distinct food, culture, arts and sustainable tourism assets. This is essential to balance against globalised food trends that are impacting on our planet, health and local economies.
IGCAT is a non-profit institute established in 2012, working with regional stakeholder consortiums in the fields of gastronomy, culture, arts and tourism. It counts on the expertise of a worldwide network of experts and works in partnership with specialised intergovernmental organisations.
IGCAT provides the Region of Gastronomy Award and is the official secretariat for the Regions of Gastronomy Platform. Furthermore, the Institute has developed the Young Chef Award, the Local Food Gift Challenge, the Top Visitor Experience and the Food Film Menu.