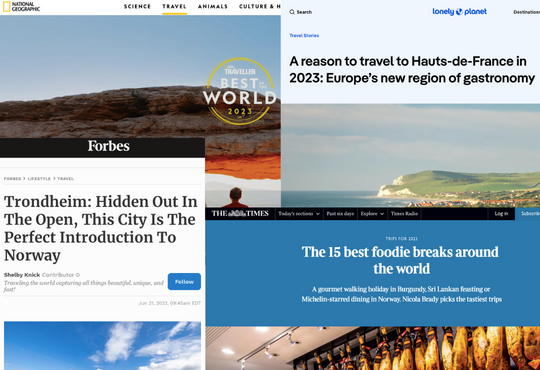 30 December 2022 – Over 60 articles have been published about the World and European Regions of Gastronomy in international online media in 2022. These include renown travel magazines such as Lonely Planet, Traveller and National Geographic, as well as leading newspapers such as The Times and The Telegraph.
This remarkable achievement shows the growing interest worldwide in the inspiring work that the regions are carrying on, especially in terms of sustainable tourism and the promotion of food and cultural diversity.
Leaf through some of the most prominent examples from major international publications that reveal why the World and European Regions of Gastronomy are a must-visit!
Lonely Planet
National Geographic
Traveller
Forbes
The Times
The Telegraph
The Independent
Euronews
Travel Weekly
The Sun
The World's 50 Best Restaurants
Zawya
About the World/European Regions of Gastronomy
World/European Regions of Gastronomy, guided by IGCAT, are working together to strengthen food security through the celebration of distinctive food cultures; create employment by stimulating creativity and gastronomic innovation; nourish children and adults through culinary and cultural education; driving environmental sustainability in tourism, hospitality and agricultural sectors; supporting balance and sustainable tourism practices; highlighting and supporting expertise from within rural and urban communities, creating connections and sharing good practices; and contributing to community health and well-being.
About IGCAT
IGCAT aims to empower local communities by raising awareness of the importance of protecting and promoting distinct regional food, culture, arts and natural assets as part of sustainable and balanced tourism and development strategies. This is essential to safeguarding our planet, health, wellness and local economies.
IGCAT is a non-profit institute established in 2012, working with regional stakeholder consortiums in the fields of gastronomy, culture, arts and tourism. It counts on the expertise of a worldwide network of experts and works in partnership with specialised intergovernmental organisations.
IGCAT founded the World/European Region of Gastronomy Award and is the official secretariat for the World/European Regions of Gastronomy Platforms. Furthermore, the Institute has developed the European Young Chef Award, the World Food Gift Challenge, the Top Websites for Foodie Travelers Award and the international Food Film Menu.