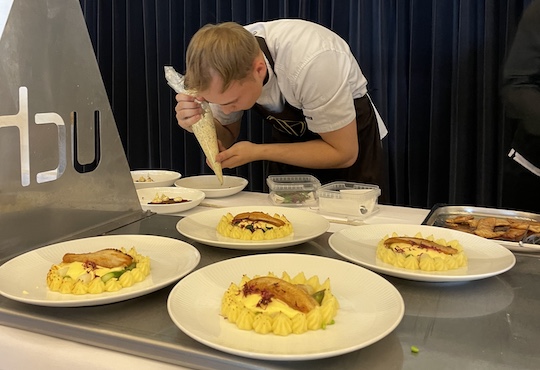 31 May 2023 – Local seasonal products, young talent and passion were the main ingredients of Madmødets Kokkeelevbattle, a competition held in Central Denmark, European Region of Gastronomy since 2017 to select their finalist to IGCAT's European Young Chef Award 2023.
Organised on the tasty backdrop of Madmødet festival (literal translation the Food Meeting, 22-29 May 2023), the competition gathered four dedicated young chefs from the region who impressed a jury of experts by presenting an innovative dish based on a local traditional recipe and communicating an interesting story about it.
Sander Mollerup's proposal, based on dabs and seasonal vegetables, eventually convinced the three members of the jury: Dak Wichangoen, Michelin-starred chef and judge in the Danish edition of Masterchef; Andreas Bjerring, winner of the European Young Chef Award 2018; and Ole Troelsø, food critic for Børsen, one of the biggest newspapers in Denmark.
A 19-year-old apprentice at Restaurant Ja in Holstebro, Sander decided to participate in Madmødets Kokkeelevbattle "to get the chance to work with local ingredients and create the best possible dish with what we have available in our part of the country. I also see it as a good opportunity to achieve a better knowledge of the local suppliers.
"In my opinion, working with local ingredients is essential for cooking, and our area is full of the most delicious ingredients ready to use. Working with local products has both a climate and taste advantage," he concluded.
Organised in collaboration with Uddannelsescenter Holstebro hospitality school, the competition was held at Nørre Vosborg, an old historic manor house in the west of Denmark as well as a dynamic and international center for art and culture. During Madmødet festival, Nørre Vosborg hosted several food-political debates, contests, music and stalls with local produce.
Madmødet: a signature event of Central Denmark, European Region of Gastronomy 2017
Madmødet is Central and West Jutland's great food celebration, bringing together all those who eat, those who harvest, those who fish, those who prepare and those who decide. The people, the producer, the chef and the politician. Madmødet is organised by Business Region MidtVest, a collaboration between seven municipalities in Central and Western Jutland: Herning, Holstebro, Ikast-Brande, Lemvig, Ringkøbing-Skjern, Skive and Struer. The aim of the collaboration is to strengthen growth, create new jobs and attract qualified workers to the area. The development of the food industry in Central and Western Jutland is one of their main focus areas (source: madmodet.dk).
About the World/European Region of Gastronomy
Candidate and awarded World/European Regions of Gastronomy, guided by IGCAT, are working together to strengthen food security through the celebration of distinctive food cultures; create employment by stimulating creativity and gastronomic innovation; nourish children and adults through culinary and cultural education; drive environmental sustainability in tourism, hospitality and agricultural sectors; support balance and sustainable tourism practices; highlight and support expertise from within rural and urban communities, creating connections and sharing good practises; and contribute to community health and well-being.
About IGCAT
IGCAT aims to empower local communities by raising awareness of the importance to protect and promote distinct regional food, culture, arts and natural assets as part of sustainable and balanced tourism and development strategies. This is essential to safeguard our planet, health, wellness and local economies.
IGCAT is a non-profit institute established in 2012, working with regional stakeholder consortiums in the fields of gastronomy, culture, arts and tourism. It counts on the expertise of a worldwide network of experts and works in partnership with specialised intergovernmental organisations.
IGCAT founded the World/European Region of Gastronomy Award and is the official secretariat for the World/European Regions of Gastronomy Platforms. Furthermore, the Institute has developed the European Young Chef Award, the World Food Gift Challenge, the Top Websites for Foodie Travelers Award and the international Food Film Menu.