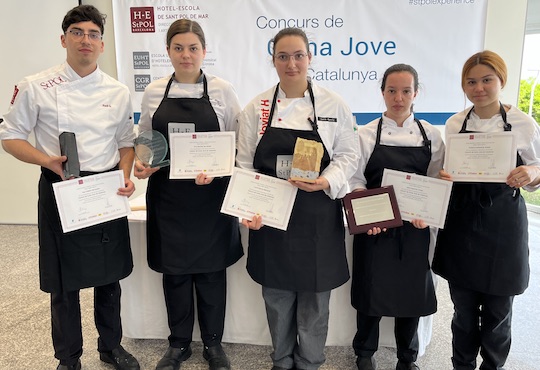 9 May 2022 – Raúl Gisbert from EUHT StPOL culinary school will represent Catalonia, European Region of Gastronomy awarded 2016 at the 6th European Young Chef Award, to be held in Trondheim (Norway), on 10-13 November 2022.
With his dish Vermut en Tres Mossegades (Appetizer in Three Bites), Raúl was the overall winner of the 34th Catalan Young Chef Award, one of the most established cooking competitions in Catalonia that this year gathered five young talents from different culinary schools across the region.
Local cuisine and Km0 products were the theme of the competition and participants were evaluated according to different criteria such as their technique and skills, creativity and originality of their recipe, tastes, presentation, and the story behind their dish.
The jury was chaired by Michelin-starred chef Fina Puigdevall, from restaurant Les Cols in Olot, and included: Gemma Moliner, representative of the Gastronomy Department of Prodeca; Rosa Mayordomo, Board Member of the Catalan Academy of Gastronomy and Nutrition (ACGN); Ramon Serra, President of the Board of EUHT StPOL; and Fernando Toda, from the professional gastronomy publisher Vilbo.
Three further prizes were awarded at the competition: Júlia Caparros, from CETT received the Prize for Dexterity and Best Technique; Eva Sanchez, from Bisbe Sivilla was awarded the Prize for Imagination and Creativity; while the Prize for Best Presentation was given to Lucia Garcia, from Joviat school.
Chef Fina Puigdevall noted the impressive level of the finalists and foresaw a bright future for all of them. She stressed that the dishes were very creative and tasty and praised the effort of all finalists to give visibility to local products and producers, as well as to present the story of their dishes.
The 34th Catalan Young Chef Award was held on 28 April 2022 at EUHT StPOL, in the framework of the 41st University Day of Gastronomy, and concluded with a cooking demonstration by chef Fina Puigdevall and her daughter Carlota Puigvert.
The official video of the competition is available at: https://youtu.be/m9Z5akZJPEI.
About the European Young Chef Award
The European Young Chef Award is an annual competition organised by IGCAT that gathers young culinary talents from the awarded and candidate European Regions of Gastronomy. Selected each year through local contests, finalists to the European Young Chef Award compete by innovating traditional recipes from their regions using local ingredients.
The 6th edition of the European Young Chef Award is organised and promoted by the International Institute of Gastronomy, Culture, Art and Tourism (IGCAT) and will be hosted by Trondheim-Trøndelag, European Region of Gastronomy awarded 2022 on 10-13 November 2022.
About the European/World Regions of Gastronomy
Candidate and awarded European/World Regions of Gastronomy, guided by IGCAT, are working together to strengthen food security through the celebration of distinctive food cultures; create employment by stimulating creativity and gastronomic innovation; nourish children and adults through culinary and cultural education; drive environmental sustainability in tourism, hospitality and agricultural sectors; support balance and sustainable tourism practices; highlight and support expertise from within rural and urban communities, creating connections and sharing good practises; and contribute to community health and well-being.
About IGCAT
IGCAT aims to empower local communities by raising awareness of the importance to protect and promote distinct regional food, culture, arts and natural assets as part of sustainable and balanced tourism and development strategies. This is essential to safeguard our planet, health, wellness and local economies.
IGCAT is a non-profit institute established in 2012, working with regional stakeholder consortiums in the fields of gastronomy, culture, arts and tourism. It counts on the expertise of a worldwide network of experts and works in partnership with specialised intergovernmental organisations.
IGCAT founded the European and World Region of Gastronomy Award and is the official secretariat for the World and European Regions of Gastronomy Platforms. Furthermore, the Institute has developed the European Young Chef Award, the World Food Gift Challenge, the Top Websites for Foodie Travelers Award and the Food Film Menu.