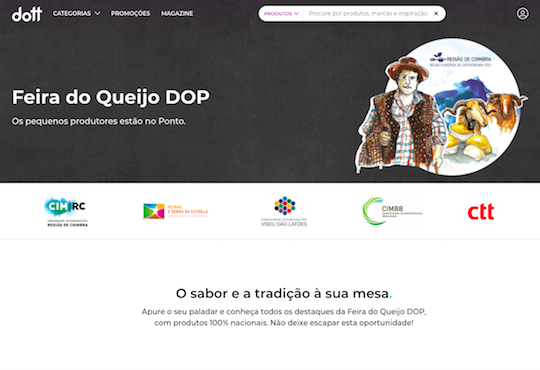 29 April 2020 – A successful example of how to combine tradition with technological innovation, the first Online Market of PDO Wine and Cheese was launched on 11 April 2020 by Coimbra Region, European Region of Gastronomy awarded 2021, as part of its official programme A Million Food Stories.
Organised by the Intermunicipal Community of Coimbra Region in cooperation with Dott, the biggest Portuguese online marketplace and the national postal service, Correios de Portugal (CTT), this initiative offers certified PDO cheese and PDO wine producers the opportunity to promote and sell their products directly to consumers throughout Portugal.
The digital fair has been conceived to support small PDO producers, whose sales suffered severe losses due to voluntary social isolation and the state of emergency declared in Portugal to counteract the COVID-19 pandemic.
The online platform is accessible under promotional conditions to PDO wine producers and PDO cheese producers (including Serra da Estrela and Rabaçal PDO cheeses) from the Intermunicipal Community of Coimbra Region, Beira e Serra da Estrela Region, Beira Baixa Region and Viseu Dão Lafões Region, while the CTT takes care of the logistics and distribution of the products.
With the same aim to bring local producers closer to consumers, the initiative Sem Sair de Casa Eu Apoio a Produção e o Comércio Local (Without Leaving Home I Support the Local Production and Trade) was launched by the local association Coimbra Mais Futuro (one of the main stakeholders of the European Region of Gastronomy 2021 programme) and Coimbra City Council.
A free and easy-to-use virtual meeting point, this platform gathers information about local farmers, producers and businesses, allowing consumers located in the Municipality of Coimbra to buy their products online. Items on sale range from agrifood products (vegetables, fruit, meat, fish) to clothes, book and personal hygiene products that can be delivered home or collected at specific points of sale.
These initiatives are two examples of the actions undertaken by Coimbra Region, awarded European Region of Gastronomy 2021 by IGCAT, to assist local producers and small businesses during the social and economic crisis generated by the coronavirus spread, in an effort to support the sustainability of the region's economy.
About the Regions of Gastronomy Platform
Candidate and awarded Regions of Gastronomy, guided by IGCAT, are working together to raise awareness about the importance of their cultural and food uniqueness; stimulate creativity and gastronomic innovation; educate for better nutrition; improve sustainable tourism standards; highlight distinctive food cultures; and strengthen community well-being.
About IGCAT
IGCAT aims to empower local communities by raising awareness of the importance to safeguard and promote distinct food, culture, arts and sustainable tourism assets. This is essential to balance against globalised food trends that are impacting on our planet, health and local economies.
IGCAT is a non-profit institute established in 2012, working with regional stakeholder consortiums in the fields of gastronomy, culture, arts and tourism. It counts on the expertise of a worldwide network of experts and works in partnership with specialised intergovernmental organisations.
IGCAT provides the Region of Gastronomy Award and is the official secretariat for the Regions of Gastronomy Platform. Furthermore, the Institute has developed the Young Chef Award, the Local Food Gift Challenge, the Top Visitor Experience and the Food Film Menu.