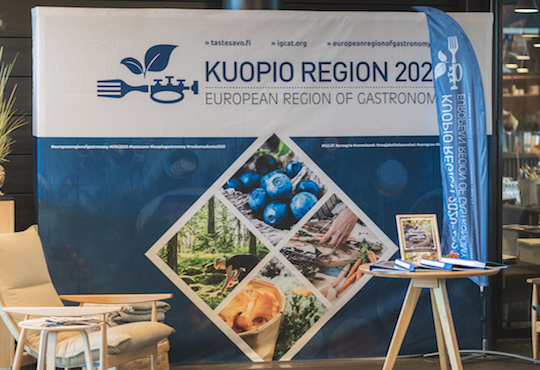 20 January 2022 – Kuopio, awarded European Region of Gastronomy 2020-21 by IGCAT, is a finalist in the EMBLA Nordic Food Awards in the Food Tourism Destination category.
EMBLA aims to strengthen the knowledge of Nordic food and give international visibility to the gastronomy of the Nordic countries and the innovative people behind it (www.emblafoodaward.com).
The competition acknowledges organizations, businesses or individuals that stand out in the following categories:
Nordic food producer
Nordic food entrepreneur
Nordic food artisan
Nordic food communicator
Nordic food for many
Nordic food destination
Nordic food for children and youth
In particular, the Nordic food destination award "goes to a society, an institution or a community, who has assembled producers of raw ingredients, restaurants and other local actors to lift a geographic destination through food-culture, cooperation and unity."
A total of 370 applications were submitted to the EMBLA Nordic Food Awards this year from Iceland, Denmark, Norway, Sweden, Finland, Greenland, Åland Islands and Faroe Islands. 70 of them were from Finland.
National juries from each country shortlisted their finalists in the 7 categories (one per country) and will come together to elect the category winners that will be announced on 20 June 2022 in Oslo.
The selection criteria for the competition include Nordicness, sustainability, inspiration, uniqueness and integrity.
The EMBLA Food Awards are organised by the Nordic Farmer's Council (NBC), with the support from the Nordic Council of Ministers.
Kuopio, European Region of Gastronomy awarded 2020-21 is a project collaboration between Eastern Finland Rural Women's Advisory Organisation / ProAgria, the City of Kuopio, SawoGrow and Savonia University of Applied Sciences. Nearly 100 companies, event operators, educational institutions and development organizations from all over the province are involved in the project that is built around the theme Life According to Nature's Rhythm.
In autumn 2021, Kuopio, European Region of Gastronomy awarded 2020-21 received an honourable mention in the Hungry for Finland food tourism competition for encouraging systematic cooperation of local operators in the region to highlight local food.
About the European/World Regions of Gastronomy
Candidate and awarded European/World Regions of Gastronomy, guided by IGCAT, are working together to strengthen food security through the celebration of distinctive food cultures; create employment by stimulating creativity and gastronomic innovation; nourish children and adults through culinary and cultural education; drive environmental sustainability in tourism, hospitality and agricultural sectors; support balance and sustainable tourism practices; highlight and support expertise from within rural and urban communities, creating connections and sharing good practises; and contribute to community health and well-being.
About IGCAT
IGCAT aims to empower local communities by raising awareness of the importance to protect and promote distinct regional food, culture, arts and natural assets as part of sustainable and balanced tourism and development strategies. This is essential to safeguard our planet, health, wellness and local economies.
IGCAT is a non-profit institute established in 2012, working with regional stakeholder consortiums in the fields of gastronomy, culture, arts and tourism. It counts on the expertise of a worldwide network of experts and works in partnership with specialised intergovernmental organisations.
IGCAT founded the European and World Region of Gastronomy Award and is the official secretariat for the World and European Regions of Gastronomy Platforms. Furthermore, the Institute has developed the European Young Chef Award, the World Food Gift Challenge, the Top Websites for Foodie Travelers Award and the Food Film Menu.