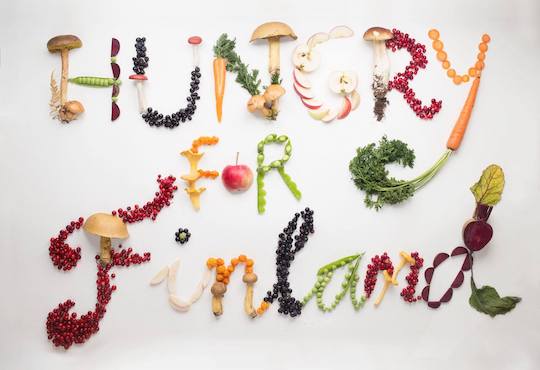 20 September 2021 – The Hungry for Finland 2021 competition recognised several initiatives from Kuopio, awarded European Region of Gastronomy 2020-21 awarded by IGCAT, among the most remarkable food tourism products at a national level.
On 16 September 2021, the competition jury awarded Kuopio region with two honourable mentions: one for the SATOA Kuopio Food Festival, the SATOA Goes WILD Food Festival and the European Region of Gastronomy 2020-21 title celebrations as a whole – all initiatives led by the Eastern Finland Rural Women's Advisory Organisation / ProAgria; and one for GreenEscape's Gastrotrain project.
With the aim to strengthen the productization of experiential food tourism in Finland, the competition was open to companies and communities that are innovative pioneers in food tourism and offer high-quality food-related experiences.
Projects were evaluated according to criteria such as customer orientation; experientiality, including locality, local food and storytelling; responsibility; business, networks and partners; diversity in the use of sales and marketing channels; and the food tourism product as a whole.
SATOA Kuopio Food Festival, SATOA Goes WILD Food Festival and the European Region of Gastronomy 2020-21 title celebrations as a whole received their honourable mention for encouraging systematic cooperation of local operators in the region to highlight local food. A cooperation that resulted in great, professionally-built events and innovative experiences based on the authentic local gastronomy, and that contribute to creating food awareness throughout the region.
The jury also recognised the sustainability in the long-term of the activities, festivals and food tourism products offered, that are planned to continue in the future as a strong legacy of the European Region of Gastronomy title.
"I am happy and proud of all those who are strongly committed to this work in the area – our partners, farmers, restaurants, producers, developers and supporters. They contributed to strengthen the Kuopio region and the Northern Savonia area as a nationally and internationally recognised food destination. Now it's time to celebrate, congratulations to all of us!" affirmed Ilona Sares, International Executive Director at Eastern Finland Rural Women's Advisory Organisation / ProAgria.
"The SATOA food festivals have brought all the flavours of our surrounding nature and region from the farms to the table to be tasted by the people of Kuopio for several years. These events have brought local entrepreneurs together, creating great opportunities for new kinds of collaboration. It has been a pleasure and pride to tell the international audience about these unique events, experiences and entrepreneurs that transformed our region into a Mecca of amazingly good, varied and clean food" stated Niina Vänttinen, Communications Specialist at Eastern Finland Rural Women's Advisory Organisation / ProAgria.
The second honourable mention went to the Gastrotrain, a GreenEscape Oy's product currently under development. This project aims to offer gastronomy routes on a steam train including food-related and cultural activities, farm-to-train tasting menus prepared by local chefs, and the possibility of purchasing local food gifts onboard.
According to the jury, the Gastrotrain is an interesting initiative that combines local food, culinary activities and cultural pleasures within an experiential train journey. It also stimulates good cooperation across different sectors.
"Gastronomy is always an integral part of local culture – and this is what we try to convey through the Gastrotrain! By offering innovative local food experiences and by combining them with stories of farmers, fishermen and top entrepreneurs, local artists, artisans and festivals, visitors can travel slowly on an old steam train to unique destinations in Finland!" commented Parvathy Venugopal, CEO at GreenEscape.
Out of the 77 submissions to the Hungry for Finland 2021 competition, four initiatives were awarded as the best food tourism products and five received honourable mentions. The awards were presented by Minister of Agriculture and Forestry, Jari Leppä and Senior Director Travel at Business Finland Oy / Visit Finland, Kristiina Hietasaari.
Developed around the theme Life According to Nature's Rhythm, Kuopio, European Region of Gastronomy 2020-21 is a project collaboration between Eastern Finland Rural Women's Advisory Organisation / ProAgria, the City of Kuopio, SawoGrow and Savonia University of Applied Sciences and involves nearly 100 companies, event operators, educational institutions and development organizations from all over the region.
Visit Kuopio, European Region of Gastronomy 2020-21 official website: www.tastesavo.fi
About the European and World Regions of Gastronomy
Candidate and awarded European and World Regions of Gastronomy, guided by IGCAT, are working together to strengthen food security through the celebration of distinctive food cultures; create employment by stimulating creativity and gastronomic innovation; nourish children and adults through culinary and cultural education; drive environmental sustainability in tourism, hospitality and agricultural sectors; support balance and sustainable tourism practices; highlight and support expertise from within rural and urban communities, creating connections and sharing good practises; and contribute to community health and well-being.
About IGCAT
IGCAT aims to empower local communities by raising awareness of the importance to protect and promote distinct regional food, culture, arts and natural assets as part of sustainable and balanced tourism and development strategies. This is essential to safeguard our planet, health, wellness and local economies.
IGCAT is a non-profit institute established in 2012, working with regional stakeholder consortiums in the fields of gastronomy, culture, arts and tourism. It counts on the expertise of a worldwide network of experts and works in partnership with specialised intergovernmental organisations. IGCAT founded the European and the World Region of Gastronomy Award and is the official secretariat for the European and World Regions of Gastronomy Platform. Furthermore, the Institute has developed the European Young Chef Award, the European Food Gift Challenge, the Top Visitor Experience Portal and the Food Film Menu.