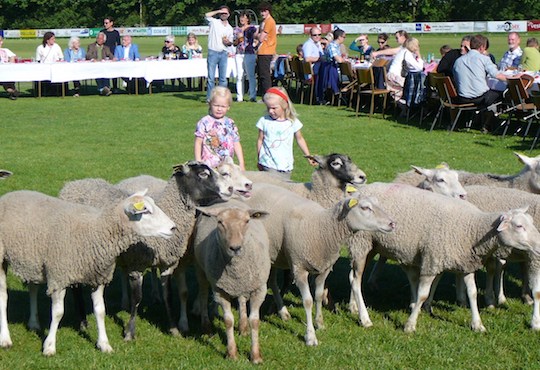 4 June 2021 – As part of its legacy as European Region of Gastronomy awarded 2017, Aarhus-Central Denmark Region has developed the Microfunding initiative to support innovative small-scale projects in gastronomy and culture.
Twice a year, the region co-funds experiences, collaborations and concepts developed by small food producers or companies working within the food industry that aim to foster local community development.
In Spring 2021, five initiatives have been chosen on the basis of their potential to contribute to sustainable development in the region's urban and rural areas, including cultivating strong identities, supporting well-being and promoting pride in local areas:
Hvide Sande Shrimp Festival. Conceived by 56.00 N, an association of local shrimp fishermen in Hvide Sande, this initiative includes two one-day festivals to give people the opportunity to know and taste this local variety of shrimp.
Climate-friendly Communal Meals. The Lemvig branch of the Danish Society for Nature Conservation has received support to hold a course on climate-friendly eating habits for the local civic and parish associations, who will then organise a climate-friendly communal meal based on the guidance received.
Demonstration of Village Spirit. Idom-Råsted Citizens' Association was awarded money to hold an event about village spirit in the framework of Madmødet 2021 (the Food Meeting 2021), devoted to the celebration of food from the regions of Central and Western Denmark. The village hosted a delegation of both local and national politicians to experience how smaller cities can succeed in having a thriving community by stimulating close cooperation between local associations, food producers, as well as cultural and sports institutions. The event ended with a village party for the local community.
Fermentation Workshop. JORDISK organic farm received funding to hold workshops on how to prepare home-made fermented food. Devised for both children and adults, the experience covers the entire journey of fermented vegetables from the ground, where they get harvested by visitors, to the kitchen, where visitors are taught conservation techniques and the cultural history of fermentation.
The Food Division. The independent institution Slagteriet, that operates as an epicentre for culture, business and creativity in the former Danish Crown slaughterhouse in Holstebro, was granted funding for its Food Division, a social food and meal community that organises food-related events, workshops and meetings to stimulate and explore culinary curiosity.
The Microfunding initiative provides co-funding of up to DKK 20,000 (2,600€) per project. Applications are evaluated by a committee including representatives from the main stakeholders of Aarhus-Central Denmark, European Region of Gastronomy awarded 2017: Food Organization of Denmark; Institute of Meals; Business Region MidtVest; and Business Region Aarhus. Central Denmark Region was named European Gastronomy Region 2017 under the theme Rethinking Good Food. The title was awarded by an international jury of IGCAT Experts in recognition of the region's food culture.
About the European Young Chef Award
The European Young Chef Award 2021 is a competition organised and promoted by the International Institute of Gastronomy, Culture, Arts and Tourism (IGCAT) in collaboration with Minho, European Region of Gastronomy awarded 2016. The European Young Chef Award gathers finalists of regional contests from around Europe to present and exchange knowledge about traditional dishes and local food products from their regions and then compete proposing their innovative reinterpretation of traditional recipes, judged by star chefs and international experts.
About the European and World Regions of Gastronomy
Candidate and awarded European and World Regions of Gastronomy, guided by IGCAT, are working together to strengthen food security through the celebration of distinctive food cultures; create employment by stimulating creativity and gastronomic innovation; nourish children and adults through culinary and cultural education; drive environmental sustainability in tourism, hospitality and agricultural sectors; support balance and sustainable tourism practices; highlight and support expertise from within rural and urban communities, creating connections and sharing good practises; and contribute to community health and well-being.
About IGCAT
IGCAT aims to empower local communities by raising awareness of the importance to protect and promote distinct regional food, culture, arts and natural assets as part of sustainable and balanced tourism and development strategies. This is essential to safeguard our planet, health, wellness and local economies.
IGCAT is a non-profit institute established in 2012, working with regional stakeholder consortiums in the fields of gastronomy, culture, arts and tourism. It counts on the expertise of a worldwide network of experts and works in partnership with specialised intergovernmental organisations.
IGCAT founded the European and the World Region of Gastronomy Award and is the official secretariat for the European and World Regions of Gastronomy Platform. Furthermore, the Institute has developed the European Young Chef Award, the European Food Gift Challenge, the Top Visitor Experience and the Food Film Menu.