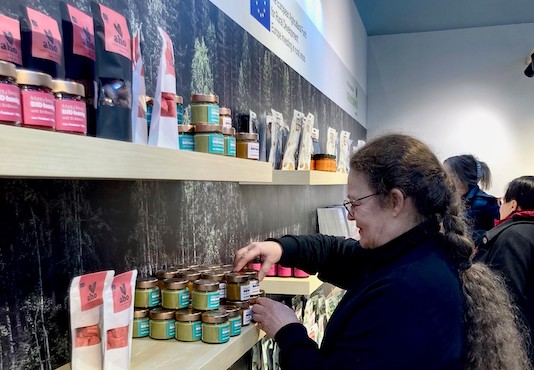 9 February 2023 – The unique flavours of Saimaa, European Region of Gastronomy awarded 2024 were presented at the Internationale Grüne Woche (IGW), one of the world's leading food fairs, held in Berlin on 20-29 January 2023.
At a dedicated stand organised in the framework of the Food from Finland programme, attendees could savour the tastes of Saimaa region served by local producers – with a special focus on freeze-dried products – and get enticed by the many stories and experiences from the land of a thousand lakes.
Coordinator of Saimaa, European Region of Gastronomy awarded 2024, Sari Kaasinen highlighted how international visitors are increasingly discovering the region "drawn by the peaceful and quiet atmosphere of the lake, the camping experiences and the pure flavours. The year 2024 will offer even more to nature, food and culture-loving travellers."
In addition to its pure nature, Saimaa is also known for its unique culture: "For example, the Savonlinna Opera Festival, the rock paintings of Astuvansalmi and Karelian folk music are internationally renowned treasures that will be highlighted in a new way in 2024," concluded Kaasinen.
The Saimaa region was officially awarded the European Region of Gastronomy title for 2024 on 12 January 2023. The international jury of experts from IGCAT that recommended the region for the Award, was particularly impressed by its sustainable lifestyle, where food, nature, culture and well-being are combined in an exceptional way.
Other European Regions of Gastronomy participated in the Grüne Woche such as Trondheim-Trøndelag awarded 2022 and Slovenia awarded 2021.
About the Internationale Grüne Woche
A total of 1900 exhibitors from 72 countries were present. The exhibition halls were divided according to the themes of World Tour, German Regions, Green up Your Life, Rural Diversity, Flower Hall, Animals, Streetfood, Garden, House & Yard, Event Farm. Grüne Woche attracts around 400,000 visitors every year. Around 10% (40 000) of these visitors are professional visitors. This year, a record number of visitors per day was set, reaching 41 000 on the last Saturday of the fair.
About the European/World Regions of Gastronomy
Candidate and awarded World/European Regions of Gastronomy, guided by IGCAT, are working together to strengthen food security through the celebration of distinctive food cultures; create employment by stimulating creativity and gastronomic innovation; nourish children and adults through culinary and cultural education; drive environmental sustainability in tourism, hospitality and agricultural sectors; support balance and sustainable tourism practices; highlight and support expertise from within rural and urban communities, creating connections and sharing good practises; and contribute to community health and well-being.
About IGCAT
IGCAT aims to empower local communities by raising awareness of the importance to protect and promote distinct regional food, culture, arts and natural assets as part of sustainable and balanced tourism and development strategies. This is essential to safeguard our planet, health, wellness and local economies.
IGCAT is a non-profit institute established in 2012, working with regional stakeholder consortiums in the fields of gastronomy, culture, arts and tourism. It counts on the expertise of a worldwide network of experts and works in partnership with specialised intergovernmental organisations.
IGCAT founded the World/European Region of Gastronomy Award and is the official secretariat for the World/European Regions of Gastronomy Platforms. Furthermore, the Institute has developed the European Young Chef Award, the World Food Gift Challenge, the Top Websites for Foodie Travelers Award and the international Food Film Menu.