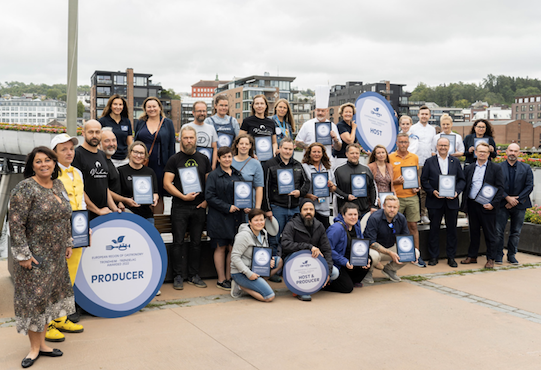 15 August 2022 – Norwegian food blogger, Helle Valebrokk explains how Trondheim-Trøndelag, awarded European Region of Gastronomy 2022 by IGCAT, has grown into an amazing international gastronomic destination over the past 20 years, by promoting the production and consumption of local top-quality food among both the food service sector and local citizens.
Holder of an outstanding series of world-renowned recognitions and gastronomic events (Nordic Michelin guide awards in 2020, Bocuse D'Or Europe 2024, to name a few), Trondheim-Trøndelag, European Region of Gastronomy awarded 2022 has managed to raise local awareness about the importance of supporting local healthy and sustainable food, while projecting a bright light on the global gastronomic map.
Read the article Derfor er Trøndelag en av Nordens aller beste matdestinasjoner (That is why Trøndelag is one of the very best food destinations in the Nordics) at helleskitchen.org (in Norwegian).
About the World/European Regions of Gastronomy
Candidate and awarded World/European Regions of Gastronomy, guided by IGCAT, are working together to strengthen food security through the celebration of distinctive food cultures; create employment by stimulating creativity and gastronomic innovation; nourish children and adults through culinary and cultural education; drive environmental sustainability in tourism, hospitality and agricultural sectors; support balance and sustainable tourism practices; highlight and support expertise from within rural and urban communities, creating connections and sharing good practises; and contribute to community health and well-being.
About IGCAT
IGCAT aims to empower local communities by raising awareness of the importance to protect and promote distinct regional food, culture, arts and natural assets as part of sustainable and balanced tourism and development strategies. This is essential to safeguard our planet, health, wellness and local economies.
IGCAT is a non-profit institute established in 2012, working with regional stakeholder consortiums in the fields of gastronomy, culture, arts and tourism. It counts on the expertise of a worldwide network of experts and works in partnership with specialised intergovernmental organisations.
IGCAT founded the World/European Region of Gastronomy Award and is the official secretariat for the World/European Regions of Gastronomy Platforms. Furthermore, the Institute has developed the European Young Chef Award, the World Food Gift Challenge, the Top Websites for Foodie Travelers Award and the international Food Film Menu.