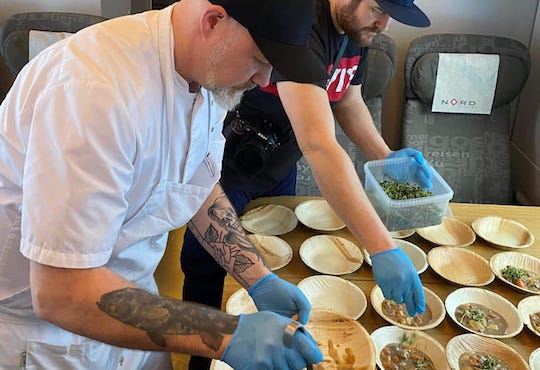 14 February 2022 – As one of the main events opening its title year as European Region of Gastronomy 2022, Trondheim-Trøndelag organised a culinary train journey through the region, highlighting the best local producers and food landscapes.
Part of the region's EAT TOGETHER series of events, this unique train journey took place on 11 February included delicious dishes prepared by Chef Lars Erik Vesterdahl with local ingredients and accompanied by local drinks, food stories and entertainment.
A surprising way of discovering the flavours of Trondheim-Trøndelag, the experience put the spotlight on four different local foodscapes by serving their most iconic products while crossing them by train:
A video about the culinary train journey is available here (in Norwegian).
About IGCAT
IGCAT aims to empower local communities by raising awareness of the importance to protect and promote distinct regional food, culture, arts and natural assets as part of sustainable and balanced tourism and development strategies. This is essential to safeguard our planet, health, wellness and local economies.
IGCAT is a non-profit institute established in 2012, working with regional stakeholder consortiums in the fields of gastronomy, culture, arts and tourism. It counts on the expertise of a worldwide network of experts and works in partnership with specialised intergovernmental organisations.
IGCAT founded the World/European Region of Gastronomy Award and is the official secretariat for the World/European Regions of Gastronomy Platforms. Furthermore, the Institute has developed the European Young Chef Award, the World Food Gift Challenge, the Top Websites for Foodie Travelers Award and the international Food Film Menu.