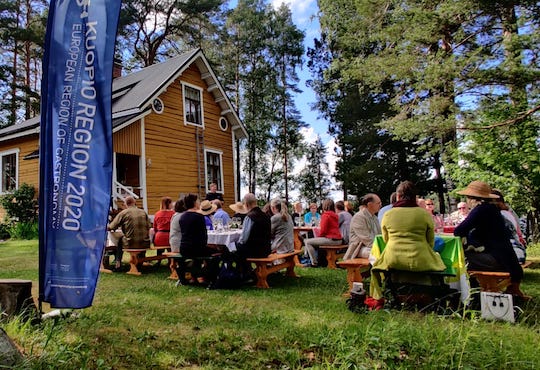 20 May 2022 – Kuopio, awarded by IGCAT European Region of Gastronomy 2020-21, secured a significant legacy of its title year by granting an extension of the project and further financial support throughout 2022.
This important measure aims to diversify food production in Kuopio and the Pohjois Savo region and enhance promotion of local gastronomy in existing events. Moreover, it is intended to increase expertise of local companies operating in the food sector by encouraging collaborations with other regional actors in order to develop interesting ideas and services. The project is also focused on testing new tourist products designed in cooperation with local companies, as well as piloting innovative concepts and business models that combine food, tourism and sustainability.
In order to ensure visibility of its work and as part of its branding strategy as European Region of Gastronomy, the Kuopio and North Savo produced a new promotional video for regional marketing: Taste is an adventure – Taste Savo | European Region of Gastronomy 2020-21. In line with the national Food Tourism Strategy 2020-2028 – Hungry for Finland and its main themes, the video highlights the region as an ideal place to experience local, healthy food in a sustainable and creative way. The extension of the project demonstrates the strong commitment of local stakeholders to keep alive and build on Kuopio's achievements as European Region of Gastronomy 2020-21, using the title as a starting point to support long-term regional sustainable development.
About the European/World Regions of Gastronomy
Candidate and awarded European/World Regions of Gastronomy, guided by IGCAT, are working together to strengthen food security through the celebration of distinctive food cultures; create employment by stimulating creativity and gastronomic innovation; nourish children and adults through culinary and cultural education; drive environmental sustainability in tourism, hospitality and agricultural sectors; support balance and sustainable tourism practices; highlight and support expertise from within rural and urban communities, creating connections and sharing good practises; and contribute to community health and well-being.
About IGCAT
IGCAT aims to empower local communities by raising awareness of the importance to protect and promote distinct regional food, culture, arts and natural assets as part of sustainable and balanced tourism and development strategies. This is essential to safeguard our planet, health, wellness and local economies.
IGCAT is a non-profit institute established in 2012, working with regional stakeholder consortiums in the fields of gastronomy, culture, arts and tourism. It counts on the expertise of a worldwide network of experts and works in partnership with specialised intergovernmental organisations.
IGCAT founded the European and World Region of Gastronomy Award and is the official secretariat for the World and European Regions of Gastronomy Platforms. Furthermore, the Institute has developed the European Young Chef Award, the World Food Gift Challenge, the Top Websites for Foodie Travelers Award and the Food Film Menu.