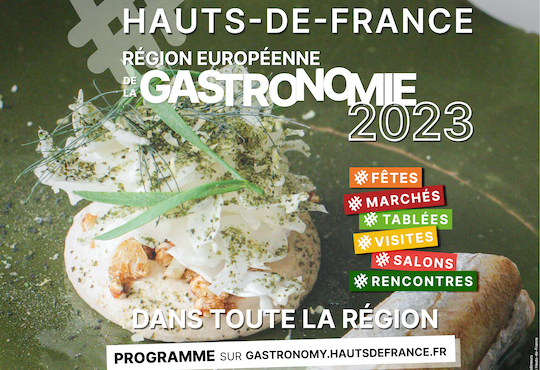 24 March 2023 – Hauts-de-France announced an exciting programme full of unique events, initiatives and activities to celebrate its title year as European Region of Gastronomy awarded 2023.
Officially launched at the Salon International de l'Agriculture in Paris, on 28 February, the agenda for the year includes festivals, markets, visits, fairs, meetings and a lot more for both visitors and the local community to experience the region's food and cultural diversity. The full programme is available at: https://gastronomy.hautsdefrance.fr/evenements-culinaires/.
In the framework of the European Region of Gastronomy 2023 project, the region also carried out a major survey to collect local family recipes and emblematic products, with the aim to strengthen the pride of the community in the rich culinary identity of Hauts-de-France.
The results of the survey will inform the book project La Cuisinerie, to be developed by chef Alexandre Gauthier, official ambassador of Hauts-de-France European Region of Gastronomy 2023, in collaboration with the departmental archives and the InRenT research laboratory, and to be published at the end of the title year. The aim of the initiative is to preserve the traditional culinary heritage of the region, with the ultimate ambition of opening the collection to further regions, and create a National Conservatory of Popular Recipes in Hauts-de-France.
About the European/World Regions of Gastronomy
Candidate and awarded World/European Regions of Gastronomy, guided by IGCAT, are working together to strengthen food security through the celebration of distinctive food cultures; create employment by stimulating creativity and gastronomic innovation; nourish children and adults through culinary and cultural education; drive environmental sustainability in tourism, hospitality and agricultural sectors; support balance and sustainable tourism practices; highlight and support expertise from within rural and urban communities, creating connections and sharing good practises; and contribute to community health and well-being.
About IGCAT
IGCAT aims to empower local communities by raising awareness of the importance to protect and promote distinct regional food, culture, arts and natural assets as part of sustainable and balanced tourism and development strategies. This is essential to safeguard our planet, health, wellness and local economies.
IGCAT is a non-profit institute established in 2012, working with regional stakeholder consortiums in the fields of gastronomy, culture, arts and tourism. It counts on the expertise of a worldwide network of experts and works in partnership with specialised intergovernmental organisations.
IGCAT founded the World/European Region of Gastronomy Award and is the official secretariat for the World/European Regions of Gastronomy Platforms. Furthermore, the Institute has developed the European Young Chef Award, the World Food Gift Challenge, the Top Websites for Foodie Travelers Award and the international Food Film Menu.