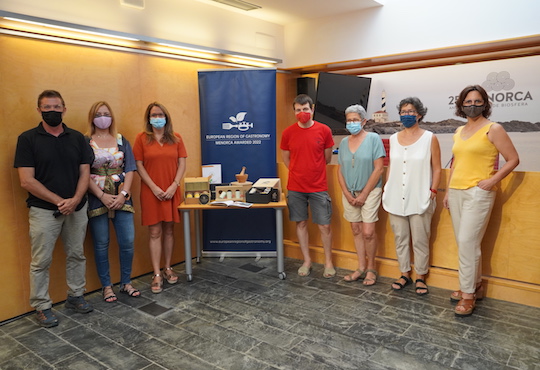 18 June 2021 – In the framework of Menorca, European Region of Gastronomy awarded 2022, the Fundació Foment del Turisme de Menorca celebrated a local contest on 15 June 2021 to select the products that will represent the region at IGCAT's European Food Gift Challenge 2021.
Four products were chosen for being unique, authentic, sustainable and representative of the local gastronomy, as well as successful in combining tradition and innovation.
Within the category of Food Gifts, awarded products were:
Three ancestral Menorcan sauces, by producer Antoni Anglada, a gift composed of three historical sauces taken from three recipe books dating back to 1734, 1756 and 1819, and reinterpreted for contemporary cuisine. The product is the result of the collaboration between two producers, a graphic designer and an arader artisan who elaborated the caps with wood from Menorca's wild olive trees.
Un tec?, by Cooperativa del Camp that brought together three local producers and created a pack for people to bring home a gastronomic experience of Menorca. The pack includes Meloussa cheeses, honey from Algaiarens and Grahame Pearce beer, as well as some tasting recommendations to savour the products fully.
Selected products in the category of Food-related craft gifts were:
Ginets, by ceramists Bàrbara Pons and Joana Muñoz from Es Fangueti, a set of three glasses inspired by the canet, a traditional bottle with handle used for Menorca's gin.
Morter, by arader artisan Ovidi Pons, a pestle and mortar made of wild olive tree wood that recalls one of the most representative products of the island: the mayonnaise sauce.
The jury panel called to evaluate the products included: Quim Salort from the Fundació Foment del Turisme de Menorca; Tolo Mercadal, representing Menorca, European Region of Gastronomy awarded 2022 and the agrifood sector; Núria Deyà, from ARTEME craft association; Erika Hartje, from Entremans craft association; and Iker Martínez, representing the design sector.
Together with top-quality products from across the European Regions of Gastronomy, Menorca's gifts will compete in the 2nd European Food Gift Challenge, organised by IGCAT and hosted by Coimbra Region, European Region of Gastronomy awarded 2021-22, on 22 July 2021.
About the European Young Chef Award
The European Young Chef Award 2021 is a competition organised and promoted by the International Institute of Gastronomy, Culture, Arts and Tourism (IGCAT) in collaboration with Minho, European Region of Gastronomy awarded 2016. The European Young Chef Award gathers finalists of regional contests from around Europe to present and exchange knowledge about traditional dishes and local food products from their regions and then compete proposing their innovative reinterpretation of traditional recipes, judged by star chefs and international experts.
About the European and World Regions of Gastronomy
Candidate and awarded European and World Regions of Gastronomy, guided by IGCAT, are working together to strengthen food security through the celebration of distinctive food cultures; create employment by stimulating creativity and gastronomic innovation; nourish children and adults through culinary and cultural education; drive environmental sustainability in tourism, hospitality and agricultural sectors; support balance and sustainable tourism practices; highlight and support expertise from within rural and urban communities, creating connections and sharing good practises; and contribute to community health and well-being.
About IGCAT
IGCAT aims to empower local communities by raising awareness of the importance to protect and promote distinct regional food, culture, arts and natural assets as part of sustainable and balanced tourism and development strategies. This is essential to safeguard our planet, health, wellness and local economies.
IGCAT is a non-profit institute established in 2012, working with regional stakeholder consortiums in the fields of gastronomy, culture, arts and tourism. It counts on the expertise of a worldwide network of experts and works in partnership with specialised intergovernmental organisations.
IGCAT founded the European and the World Region of Gastronomy Award and is the official secretariat for the European and World Regions of Gastronomy Platform. Furthermore, the Institute has developed the European Young Chef Award, the European Food Gift Challenge, the Top Visitor Experience and the Food Film Menu.