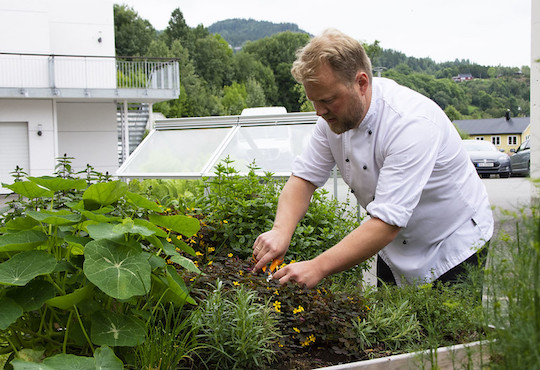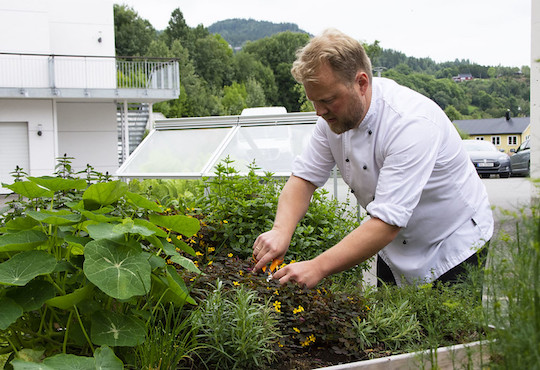 13 November 2020 – Trondheim-Trøndelag, European Region of Gastronomy awarded 2022 by IGCAT is paving the way for the introduction of more locally produced food into elderly nursing homes.
This past summer, as part of Trondheim Food Festival – A Place Near You, eight nursing homes on the peninsula of Fosen in Trøndelag served locally produced food and beverages to their 500 residents. The experience was so good that the participating institutions have created a network aimed to improve the food experience of their guests.
"Chefs working in nursing homes and other public institutions should be able to buy more locally produced foods in season and when they have access to it" explained Bjørn Erik Vangen, kitchen chef at the Leksvik Nursing Home. "Current public procurement contracts are outdated, because they are based on purchasing in large quantities from large companies. We run an institution in Fosen; we ought to be able to buy eggs from Fosen, and not from Jæren, all the way south of Norway," said Vangen.
Several actors including local authorities, regional food producers and other companies working in the food and sustainability sectors are exploring opportunities of collaboration to ensure that nursing homes can serve local nutritious, quality food and transform daily meals into a pleasant experience, rather than a mere necessity.
"The motivation of creating a network is to be able to inspire each other, share knowledge, exchange experiences and to have a place to talk about solutions and to further develop our food region," affirmed Tore Bjørkli, Director of Agriculture of Trøndelag County Council.
"We are so happy that this worked out successfully," said Project Manager of Trondheim Food Festival, Brit Melting. "During the Food Festival we visited nursing homes and provided food made by producers from the area, and both residents and employees enjoyed the experience of sharing local meals. Through this innovative project and with the collaboration of local producers, we were able to develop dishes that can be easily prepared by institutional kitchens, usually serving five meals a day. This summer, we created great synergies and ripple effects, and we see now a lot of potential in this collaborative network of caring institutions."
"The value of being able to tell our residents where their food comes from is priceless. Telling them that the lamb in the stew is from the farm next door, where the animals have been feeding on grass in the meadows puts a smile on their faces," affirmed Vangen. "Our residents love that the beer served at Sunday dinner is made at the local brewery. These are all things that increase their appetite and lift their spirits. They also arouse positive feelings in those of us who work here, we feel proud of being able to offer such food experiences," says the kitchen chef, thrilled about the possibility for nursing institutions to work more closely together.
About the Regions of Gastronomy Platform
Candidate and awarded Regions of Gastronomy, guided by IGCAT, are working together to raise awareness about the importance of their cultural and food uniqueness; stimulate creativity and gastronomic innovation; educate for better nutrition; improve sustainable tourism standards; highlight distinctive food cultures; and strengthen community well-being.
About IGCAT
IGCAT aims to empower local communities by raising awareness of the importance to safeguard and promote distinct food, culture, arts and sustainable tourism assets. This is essential to balance against globalised food trends that are impacting on our planet, health and local economies.
IGCAT is a non-profit institute established in 2012, working with regional stakeholder consortiums in the fields of gastronomy, culture, arts and tourism. It counts on the expertise of a worldwide network of experts and works in partnership with specialised intergovernmental organisations.
IGCAT provides the Region of Gastronomy Award and is the official secretariat for the Regions of Gastronomy Platform. Furthermore, the Institute has developed the Young Chef Award, the Local Food Gift Challenge, the Top Visitor Experience and the Food Film Menu.