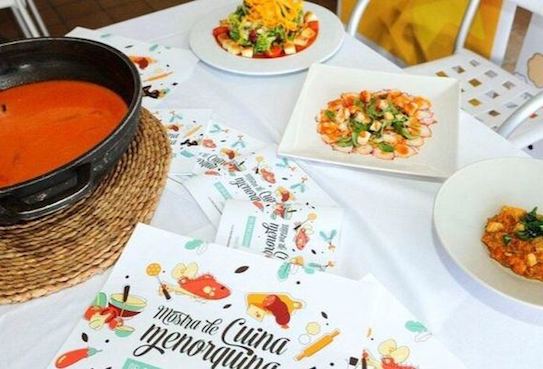 22 September 2021 – A total of 38 restaurants from all over Menorca, European Region of Gastronomy awarded 2022 are involved in the Mostra de Cuina Menorquina 2021 (Festival of Menorcan Cuisine) aimed to promote the local cuisine and food products. A new, outstanding participation record if compared to last year's edition, where 23 establishments took part.
"We are extremely happy with this edition's participation rate and especially with the top-quality gastronomic offer of the restaurants involved throughout the island," stated José Bosch, President of Restauración Menorca.
During the festival (17 September – 3 October), each participating restaurant will offer either or both a Menú Mostra, including a starter, a main course and a dessert for a fixed price of 20€, and a more expensive Menú Gastronómico, with varying prices and formats. Both options may include traditional dishes of the Menorcan cuisine or new creations based on local, seasonal products.
Involved restaurants are: Aquarium Port, Asador Molí Des Comte, Can Faustino, Club Nàutic Ciutadella, Es Born, Es Pinzell, Mon Restaurant, Morvedra Nou, Rels Restaurant, Restaurant Cabòria, S'Amarador and Ses Voltes Espai Gastronòmic in Ciutadella; Aquarium Lago, Arena Beach, Foc Eco Brasserie and Sa Parrilla Del Lago in Cala'n Bosch; Restaurant Maribel in Cala Blanca; Restaurant Es Barranc in Cala Galdana; Binissuès and Restaurant Loar Ferreries in Ferreries; Es Chic in Es Migjorn Gran; Bistro Sol 32, Hotel Jeni & Restaurant, S'Arangí, Tast Restaurant and The Tapas Gastrobar in Es Mercadal; Es Jardí des Temple, Santa Marianna and Torralbenc in Alaior; Cafè del Nord in Platges de Fornells; Alcaufar Vell and Sa Pedrera des Pujol in Sant Lluís; Artiem Carlos III and Sant Joan de Binissaïda in Es Castell; Aqua, Nou Bar, Sa Lliga Marítim and Urban Mô in Maó.
The Mostra de Cuina Menorquina is organised by Restauració Menorca and CAEB (Confederation of Business Associations of the Balearic Islands) with the support of Magna and in collaboration with Fundació Foment de Turisme de Menorca, Menorca, European Region of Gastronomy awarded 2022, Baleària, Sa Cooperativa del Camp, Ashome, the Balearic Association of Gastronomy Journalists and Writers, Fra Roger, Cómete Menorca, Foodies on Menorca, Ascaib, Elitechip, Vermella Menorquina, Associació de Ramaders de Bestiar Boví de Raça de Menorca, Lago Resort Menorca and Arena Beach.
About the European and World Regions of Gastronomy
Candidate and awarded European and World Regions of Gastronomy, guided by IGCAT, are working together to strengthen food security through the celebration of distinctive food cultures; create employment by stimulating creativity and gastronomic innovation; nourish children and adults through culinary and cultural education; drive environmental sustainability in tourism, hospitality and agricultural sectors; support balance and sustainable tourism practices; highlight and support expertise from within rural and urban communities, creating connections and sharing good practises; and contribute to community health and well-being.
About IGCAT
IGCAT aims to empower local communities by raising awareness of the importance to protect and promote distinct regional food, culture, arts and natural assets as part of sustainable and balanced tourism and development strategies. This is essential to safeguard our planet, health, wellness and local economies.
IGCAT is a non-profit institute established in 2012, working with regional stakeholder consortiums in the fields of gastronomy, culture, arts and tourism. It counts on the expertise of a worldwide network of experts and works in partnership with specialised intergovernmental organisations. IGCAT founded the European and the World Region of Gastronomy Award and is the official secretariat for the European and World Regions of Gastronomy Platform. Furthermore, the Institute has developed the European Young Chef Award, the European Food Gift Challenge, the Top Visitor Experience Portal and the Food Film Menu.
Photo credit: menorcaaldia.com